The Belly of Paris (Paperback)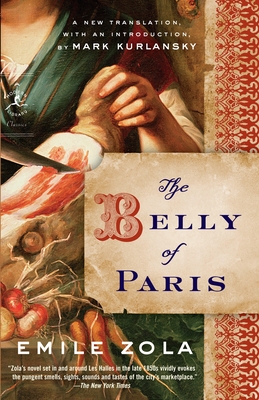 Description
---
Part of Emile Zola's multigenerational Rougon-Macquart saga, The Belly of Paris is the story of Florent Quenu, a wrongly accused man who escapes imprisonment on Devil's Island. Returning to his native Paris, Florent finds a city he barely recognizes, with its working classes displaced to make way for broad boulevards and bourgeois flats. Living with his brother's family in the newly rebuilt Les Halles market, Florent is soon caught up in a dangerous maelstrom of food and politics. Amid intrigue among the market's sellers the fishmonger, the charcutiere, the fruit girl, and the cheese vendor and the glorious culinary bounty of their labors, we see the dramatic difference between fat and thin (the rich and the poor) and how the widening gulf between them strains a city to the breaking point.
Translated and with an Introduction by the celebrated historian and food writer Mark Kurlansky, The Belly of Paris offers fascinating perspectives on the French capital during the Second Empire and, of course, tantalizing descriptions of its sumptuous repasts.
About the Author
---
?mile Zola was a French writer who is recognized as an exemplar of literary naturalism and for his contributions to the development of theatrical naturalism. Zola s best-known literary works include the twenty-volume Les Rougon-Macquart, an epic work that examined the influences of violence, alcohol and prostitution on French society through the experiences of two families, the Rougons and the Macquarts. Other remarkable works by Zola include Contes ? Ninon, Les Myst?res de Marseille, and Th?r?se Raquin.
In addition to his literary contributions, Zola played a key role in the Dreyfus Affair of the late nineteenth and early twentieth century. His newspaper article J Accuse accused the highest levels of the French military and government of obstruction of justice and anti-semitism, for which he was convicted of libel in 1898. After a brief period of exile in England, Zola returned to France where he died in 1902. ?mile Zola is buried in the Panth?on alongside other esteemed literary figures Victor Hugo and Alexandre Dumas.
Mark Kurlansky is the New York Times best-selling author of twenty-eight books and a former foreign correspondent for The International Herald Tribune, The Chicago Tribune, The Miami Herald, and The Philadelphia Inquirer. He lives in New York City.
Praise For…
---
"'In an age when gastronomic fiction has become fashionable,' Emile Zola's 1873 novel The Belly of Paris... 'seems ahead of its time,' writes food historian Mark Kurlansky in the introduction to his new translation of the book. Set amid the bustling Les Halles market, the novel 'revolves around the graphically illustrated conceit that the bourgeoisie not only eats too much but has an unhealthy obsession with food.' Its descriptions of cuisine, too, are notable for their length, detail and humor."—Washington Post

"It's totally appropriate that food-writer Mark Kurlansky should helm Modern Library Classics' new translation of Émile Zola's The Belly of Paris. Not only does he have a keen ear for Zola's revolutionary naturalism, he also captures the passion at the heart (or gut) of The Belly of Paris–a passion for food." —Biblioklept