PLEASE NOTE
Books must show: IN STOCK at your desired location for same day pick-up in stores. We recommend calling stores that show low stock numbers.
Savvy (Hardcover)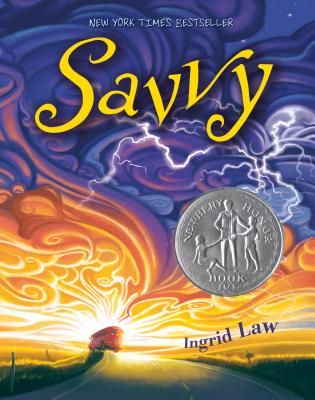 $16.99
Usually Ships in 1-5 Days
Description
---
A vibrant new voice . . . a modern classic.
For generations, the Beaumont family has harbored a magical secret. They each possess a savvy a special supernatural power that strikes when they turn thirteen. Grandpa Bomba moves mountains, her older brothers create hurricanes and spark electricity . . . and now it's the eve of Mibs's big day.
As if waiting weren t hard enough, the family gets scary news two days before Mibs's birthday: Poppa has been in a terrible accident. Mibs develops the singular mission to get to the hospital and prove that her new power can save her dad. So she sneaks onto a salesman's bus . . . only to find the bus heading in the opposite direction. Suddenly Mibs finds herself on an unforgettable odyssey that will force her to make sense of growing up and of other people, who might also have a few secrets hidden just beneath the skin.
About the Author
---
Ingrid Law is theNew York Timesbestselling author of two novels for young readers, SavvyandScumble. Ingrid's books have been placed on more than 30 state reading lists, and have earned accolades fromPublishers Weekly, Oprah's reading list, the Today Show's Al Roker's Book Club for Kids, and the Smithsonian.Savvywas named a Newbery Honor book in 2009. Ingrid is a huge fan of words and stories, of small towns and big ideas. She lives in Colorado, where she writes full time.