Our Lady of the Flowers (Paperback)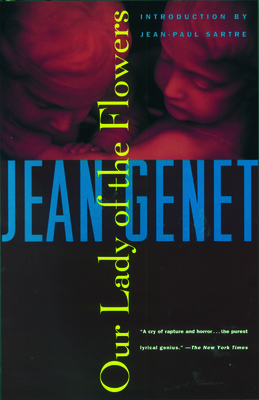 Description
---
Jean Genet's first, and arguably greatest, novel was written while he was in prison. As Sartre recounts in his introduction, Genet penned this work on the brown paper which inmates were supposed to use to fold bags as a form of occupational therapy. The masterpiece he managed to produce under those difficult conditions is a lyrical portrait of the criminal underground of Paris and the thieves, murderers and pimps who occupied it. Genet approached this world through his protagonist, Divine, a male transvestite prostitute. In the world of Our Lady of the Flowers, moral conventions are turned on their head. Sinners are portrayed as saints and when evil is not celebrated outright, it is at least viewed with a benign indifference. Whether one finds Genet's work shocking or thrilling, the novel remains almost as revolutionary today as when it was first published in 1943 in a limited edition, thanks to the help of one its earliest admirers, Jean Cocteau.
About the Author
---
Jean Genet (1910-1986) was a prominent and controversial French novelist, playwright, poet, essayist, and political activist. Early in his life he was a vagabond and petty criminal, but later took to writing. His major works include the novels Querelle of Brest, The Thief's Journal, and Our Lady of the Flowers, and the plays The Balcony, The Blacks, The Maids, and The Screens.



Jean-Paul Sartre was a prolific philosopher, novelist, public intellectual, biographer, playwright and founder of the journal Les Temps Modernes. Born in Paris in 1905 and died in 1980, Sartre was awarded the Nobel Prize for Literature in 1964 and turned it down. His books include Nausea, Intimacy, The Flies, No Exit, Sartre s War Diaries, Critique of Dialectical Reason, and the monumental treatise Being and Nothingness.