PLEASE NOTE
Books must show: IN STOCK at your desired location for same day pick-up in stores. We recommend calling stores that show low stock numbers.
Tender at the Bone: Growing Up at the Table (Paperback)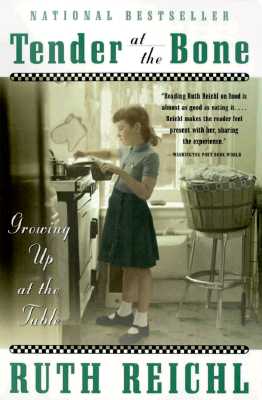 This Book Is Not Sold Online - In Store Special Order Only
Description
---
At an early age, Ruth Reichl discovered that "food could be a way of making sense of the world. . . . If you watched people as they ate, you could find out who they were." Her deliciously crafted memoir, Tender at the Bone, is the story of a life determined, enhanced, and defined in equal measure by a passion for food, unforgettable people, and the love of tales well told.  Beginning with Reichl's mother, the notorious food-poisoner known as the Queen of Mold, Reichl introduces us to the fascinating characters who shaped her world and her tastes, from the gourmand Monsieur du Croix, who served Reichl her first soufflé, to those at her politically correct table in Berkeley who championed the organic food revolution in the 1970s.  Spiced with Reichl's infectious humor and sprinkled with her favorite recipes, Tender at the Bone is a witty and compelling chronicle of a culinary sensualist's coming-of-age.
About the Author
---
Ruth Reichl is the restaurant critic for the New York Times.  She lives in New York City with her husband, her son, and two cats.
Praise For…
---
"Reading Ruth Reichl on food is almost as good as eating it. . . . Reichl makes the reader feel present with her, sharing the experience."
--Washington Post Book World

"An absolute delight to read . . . how lucky we are that [Reichl] had the courage to follow her appetite."
--Newsday

"A poignant, yet hilarious, collection of stories about people [Reichl] has known and loved, and who, knowingly or unknowingly, steered her on the path to fulfill her destiny as one of the world's leading food writers."
--Chicago Sun-Times

"While all good food writers are humorous .  .  .  few are so riotously, effortlessly entertaining as Ruth Reichl.  .  .  .  [She] is also witty, fair-minded, brave, and a wonderful writer."
--New York Times Book Review

"[In] this lovely memoir .  .  .  we find young Ruth desperately trying to steer her manic mother's unwary guests toward something edible.  It's a job she does now .  .  .  in her columns, and whose intimate imperatives she illuminates in this graceful book."
--The New Yorker

"A savory memoir of [Reichl's] apprentice years.  .  .  .  Reichl describes [her] experiences with infectious humor, .  .  .  the descriptions of each sublime taste are mouth-wateringly precise.  .  .  .  A perfectly balanced stew of memories."
--Kirkus Reviews