PLEASE NOTE
Books must show: IN STOCK at your desired location for same day pick-up in stores. We recommend calling stores that show low stock numbers.
The Long Walk: The True Story of a Trek to Freedom (Hardcover)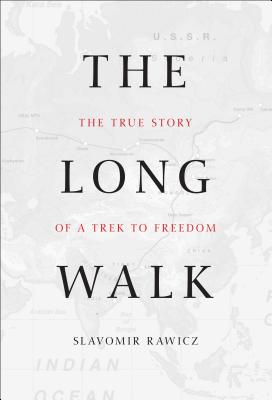 $24.95
Usually Ships in 1-5 Days
Description
---
MORE THAN HALF A MILLION COPIES SOLD The classic adventure story that inspired the new major motion picture The Way Back, directed by Peter Weir *** "I hope The Long Walk will remain as a memorial to all those who live and die for freedom, and for all those who for many reasons could not speak for themselves." Slavomir Rawicz "A poet with steel in his soul." New York Times "One of the most amazing, heroic stories of this or any other time." Chicago Tribune "A book filled with the spirit of human dignity and the courage of men seeking freedom." Los Angeles Times "The Long Walk is a book that I absolutely could not put down and one that I will never forget." Stephen Ambrose, historian and presidential biographer *** In 1941, the author and six fellow prisoners of war escaped a Soviet labor camp in Yakutsk a camp where enduring hunger, cold, untended wounds, and untreated illnesses, and avoiding daily executions were everyday feats. Their march over thousands of miles by foot out of Siberia, through China, the Gobi Desert, Tibet, and over the Himalayas to British India is a remarkable statement about man's desire to be free. Written in a hauntingly detailed, no-holds-barred way, the book inspired the Peter Wier film The Way Back, due for release in late 2010. Previous editions have sold hundreds of thousands of copies; this edition includes an afterword written by the author shortly before his death, as well as the author's introduction to the book's Polish edition. Guaranteed to forever stay in the reader's mind, The Long Walk will remain a testament to the strength of the human spirit, and the universal desire for freedom and dignity. *** Six-time Academy Award nominee Peter Weir (Master and Commander, The Truman Show, and The Dead Poets Society) recently directed The Way Back, a much-anticipated film based on The Long Walk. Starring Colin Farrell, Jim Sturgess, and Ed Harris, it is due for release in late 2010.
About the Author
---
Slavomir Rawicz lived in England for many years after the war. He married an Englishwoman and lived in the countryside until his death in 2004.

Praise For…
---
"The Long Walk is a book that I absolutely could not put down and one that I will never forget..."--Stephen Ambrose
 "A poet with steel in his soul."--New York Times
"One of the most amazing, heroic stories of this or any other time."--Chicago Tribune
"A book filled with the spirit of human dignity and the courage of men seeking freedom."
—Los Angeles Times
"Heroism is not the domain of the powerful; it is the domain of people whose only other alternative is to give up and die…. [The Long Walk] must be read—and reread, and passed along to friends."—National Geographic Adventure
"The ultimate human endurance story…told with clarity, vivid description, and a good dash of romance and humor."—The Vancouver Sun
"Essentially it comes down to some sort of inner tenacity and that is what is so gripping about the book because you know that this is actually about all of us.  It's not just some Polish bloke who wanted to get home.  It's about how we all struggle on every day.  Somehow or other we find a reason to keep on going and it's the same here but on an epic scale".--Benedict Allen, explorer and bestselling author of Into the Abyss and Edge of Blue Heaven