The Invisible Mountain (Compact Disc)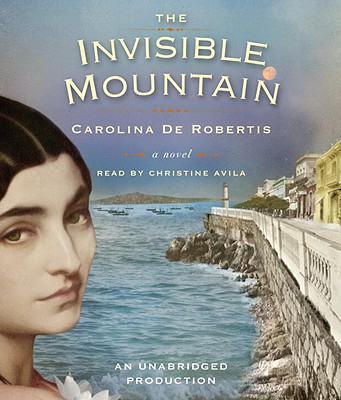 This Book Is Not Sold Online - In Store Special Order Only
Description
---
With her distinctive storytelling abilities and indelibly drawn characters, Carolina De Robertis illuminates a dark moment in contemporary Latin America. Intimate with the region, she crafts an emotionally pitch-perfect tale of a young woman who makes a horrifying--but ultimately liberating--discovery about her origins.
Perla Correa grew up a privileged only child in Buenos Aires with a polished, aloof mother and a straitlaced naval officer father, whose profession she learned early on not to disclose in a country still reeling from the abuses perpetrated by the deposed military dictatorship. Although Perla understands that her parents were on the wrong side of the conflict, her love for her papa is unconditional. But when she is startled by an uninvited visitor, she begins a journey that will force her to confront the unease she has long suppressed and make a wrenching decision about who she is and who she will become.
This rich human drama is based on the truth of thirty thousand disappeared Argentinean citizens and five hundred babies who were born in clandestine detention centers, torn from their mothers, and secretly given up for adoption. In the years that followed this dark time, some of these children have discovered the identities of their true families, and they continue to do so today. "Perla" brings history to life as only fiction can, in an intimate, unforgettable portrait of one young woman's explosive search for truth. De Robertis""unfolds a gripping and historically resonant tale with keen-eyed compassion, luminous prose, and a startling vision of the incomparable power of love.
"From the Hardcover edition.
About the Author
---
Carolina De Robertis, a writer of Uruguayan origins, grew up in England, Switzerland, and California. She is the author of two previous novels, Perla and The Invisible Mountain (a Best Book of 2009 according to the San Francisco Chronicle; O, The Oprah Magazine; and Booklist), and the recipient of Italy s Rhegium Julii Prize and a 2012 fellowship from the National Endowment for the Arts. Her writings and literary translations have appeared in Zoetrope: All-Story, Granta, The Virginia Quarterly Review, the anthology Immigrant Voices, and elsewhere. Her novels have been translated into sixteen languages. She lives in Oakland, California.


Praise For…
---
"The Invisible Mountain does what the best, most readable novels do: it tells a compelling human story about identity while also quietly evoking a place and time." —O, The Oprah Magazine (in "10 Terrific Reads of 2009")
 
"Passionate and beautiful…De Robertis has created a vivid new landscape, both internal and external, and provided the reader with a glimpse of the country of her ancestry, a land haunted by a mountain that is not really a mountain." —Lynn Rosen, The Philadelphia Inquirer
 
"The Invisible Mountain is a poetic and absorbing generational epic that pays tribute to a colorful culture and amazing history.  De Robertis is a promising young writer, and we can only hope there is much more to come from her." —Rebecca Stropoli, BookPage
 
"A galloping saga...hugely ambitious.  De Robertis [has] an apparently bottomless gift for lush metaphor.  The Invisible Mountain winds up being the kind of novel you stay up late to finish and lie awake thinking about.  It is breathless, full of tenderness...its ensemble of women and men [are] bent on living every moment as if on fire, answering the great question of life (how, then, to live?) as passionately, with as much teeth-rattling urgency, as they humanly can." —Joan Frank, San Francisco Chronicle
 
"Enchanting, funny and heartbreaking…Beautifully written yet deliberate in its storytelling, [The Invisible Mountain is] an extraordinary first effort whose epic scope and deft handling reverberate with the deep pull of ancestry, the powerful influence of one's country and the sacrifices of reinvention." —Publishers Weekly, (starred review)
 
"De Robertis is a skilled storyteller, but it is her use of language—from the precision of poetry to the sensuality of sex—that makes this literary debut so exceptional."
—Michele Leber, Booklist (starred review)
 
"Beautifully wrought…Miracles, poetry, and guerilla fighters march through the twentieth century in De Robertis's winning debut…Dense and lush, filled with lyrical storytelling."
—Kirkus Reviews
 
"An incantatory debut…This visionary book beautifully, bravely breaks open all the old secrets." —Lisa Shea, Elle
 
"The brainiest dynastic novel in years. A high-end story full of sex, politics and family." —Sara Nelson, The Daily Beast
"Deeply engrossing…This novel makes us ponder the struggles of our own grandmothers, mothers, and daughters, and gives us the compassion to recognize that the links between us are deeper than the differences.  A fierce, wise, and tender tale." —Anita Amirrezvani, author of The Blood of Flowers
"With grace, fluidity and a modicum of magic, an extraordinary and passionate family navigate the social and political landscapes of South America. The Invisible Mountain is a wonderful story; and De Robertis is a writer to watch." —Matthew Aaron Goodman, author of Hold Love Strong
 
"Carolina De Robertis is a writer of uncanny wisdom and an alchemist of words. With The Invisible Mountain, she has introduced us to an unfamiliar landscape of harsh contradictions and of the heavy burden history often plays in the shaping and altering of lives on the brink of change. The Invisible Mountain introduces a gifted literary voice mapping the uncharted territories of the Americas in a fearless new way." —Alex Espinoza, author of Still Water Saints
 
"With this marvelous novel, Carolina De Robertis brings to vivid life the history and culture of Uruguay, a country too-long neglected in the consciousness of the Americas.  Bold, passionate, and filled with songs both ecstatic and tragic, De Robertis tells the stories of three generations of women whose lives transcend the ordinary." —Cristina García, author of Dreaming in Cuban
 
"A lyrical, haunting story about three generations of an extraordinary family, and an evocative tribute to the endurance of women and the spirit of poetry." —Diana Gabaldon, author of The Outlander series