Shanghai Girls (Compact Disc)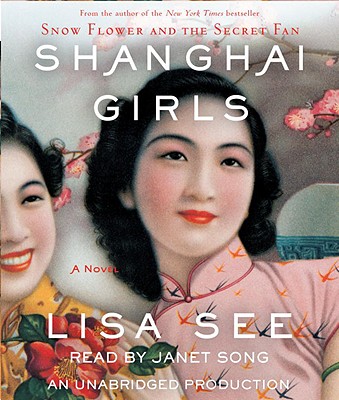 This Book Is Not Sold Online - In Store Special Order Only
May 2010 Indie Next List
---
"Pearl, the narrator of Shanghai Girls, says that parents die, husbands and children can leave, but sisters are for life. Her life takes her from being an indulged daughter to being sold as a wife to satisfy her father's gambling debts; from a comfortable life in Shanghai to a deperate escape from the invading Japanese, and on to San Francisco and a difficult life as an unwelcome immigrant. Through all these experiences and despite jealousies, rivalries, and a closely kept secret, Pearl and May are best friends. See tells a great story, and one that will prompt stimulating discussion."
— Sally Wizik Wills, Sister Wolf Books, Park Rapids, MN
June 2009 Indie Next List
---
"Beginning in prewar Shanghai of the 1930s, Shanghai Girls tells an emotional story of two sisters who are 'pawned' in arranged marriages and sent to America as payment for a family debt. Lisa See has written a novel of sacrifice and newfound dreams that you must read."
— Carol Hicks, Bookshelf At Hooligan Rocks, Truckee, CA
Description
---
In 1937, Shanghai is the Paris of Asia, a city of great wealth and glamour, the home of millionaires and beggars, gangsters and gamblers, patriots and revolutionaries, artists and warlords. Thanks to the financial security and material comforts provided by their father's prosperous rickshaw business, twenty-one-year-old Pearl Chin and her younger sister, May, are having the time of their lives. Though both sisters wave off authority and tradition, they couldn t be more different: Pearl is a Dragon sign, strong and stubborn, while May is a true Sheep, adorable and placid. Both are beautiful, modern, and carefree . . . until the day their father tells them that he has gambled away their wealth and that in order to repay his debts he must sell the girls as wives to suitors who have traveled from California to find Chinese brides.
As Japanese bombs fall on their beloved city, Pearl and May set out on the journey of a lifetime, one that will take them through the Chinese countryside, in and out of the clutch of brutal soldiers, and across the Pacific to the shores of America. In Los Angeles they begin a fresh chapter, trying to find love with the strangers they have married, brushing against the seduction of Hollywood, and striving to embrace American life even as they fight against discrimination, brave Communist witch hunts, and find themselves hemmed in by Chinatown's old ways and rules.
At its heart, Shanghai Girls is a story of sisters: Pearl and May are inseparable best friends who share hopes, dreams, and a deep connection, but like sisters everywhere they also harbor petty jealousies and rivalries. They love each other, but each knows exactly where to drive the knife to hurt the other the most. Along the way they face terrible sacrifices, make impossible choices, and confront a devastating, life-changing secret, but through it all the two heroines of this astounding new novel hold fast to who they are Shanghai girls.
"From the Hardcover edition.
About the Author
---
Lisa See is the author of three previous novels: "Flower Net" (which was nominated for an Edgar Award), "The Interior," and "Dragon Bone"s. She is also the author of the widely acclaimed memoir "On Gold Mountain," She lives in Los Angeles.

Janet is the recipient of multiple Earphones Awards from AudioFile Magazine and was named one of their Best Voices of 2008 for her narration of After Dark by Haruki Murakami and The Commoner by John Burnham Schwartz. She lives and works in Los Angeles as an actor on stage and screen, and has recently appeared in The Bling Ring, Palo Alto, The Fosters, and Shameless.
Praise For…
---
"See is a gifted writer, and in Shanghai Girls she again explores the bonds of sisterhood while powerfully evoking the often nightmarish American immigrant experience."—USA Today

"A buoyant and lustrous paean to the bonds of sisterhood."–Booklist

"A rich work…as compulsively readable as it is an enlightening journey."—Denver Post

"The glamour of prewar Shanghai is recalled in Lisa See's deftly plotted Shanghai Girls."—Vogue

"Splendid"—More

"An engrossing tale of two sisters."–Time.com

"Shanghai Girls is one of those books I could not wait to continue reading, because her characters' stories are so compellingly told."—St. Louis Dispatch

"As in Snow Flower and the Secret Fan and Peony in Love, she has in her latest novel created ordinary women who, through willfulness and resiliency, accomplish extraordinary things…See, whose writing is as graceful as these ''beautiful girls,'' pulls off another exceptional novel."–Miami Herald