The Majesty of the Law: Reflections of a Supreme Court Justice (Abridged / Compact Disc, Abridged)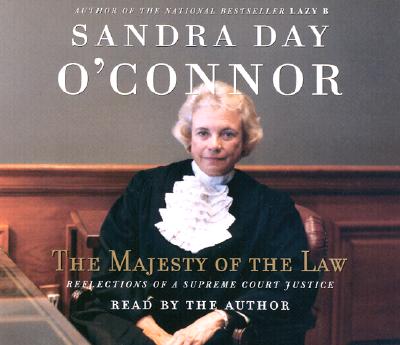 This Book Is Not Sold Online - In Store Special Order Only
Description
---
In The Majesty of the Law, Supreme Court Justice Sandra Day O'Connor explores the law, her life as a Justice, and how the Court has evolved and continues to function, grow, and change as an American institution. Tracing some of the origins of American law through history, people, and ideas, O'Connor sheds new light on the basics, and through personal observation she explores the development of institutions and ideas we have come to regard as fundamental.

O'Connor discusses notable cases that have shaped American democracy and the Court as we know it today, and she traces the turbulent battle women have fought for a place in our nation's legal system since America's inception. Straight-talking, clear-eyed, inspiring, The Majesty of the Law is more than a reflection on O'Connor's own experiences as the first female Justice of the Supreme Court; it also contains a discussion of how the suffrage movement changed the lives of women—in voting booths, jury boxes, and homes across the country.

In The Majesty of the Law, Sandra Day O'Connor reveals some of what she has learned and believes about American law and life, insights gleaned over her years as one of the most powerful and inspiring women in American history.
About the Author
---
Sandra Day O'Connor was born in El Paso, Texas, and raised on the Lazy B, a ranch on the Arizona–New Mexico border. She attended college and law school at Stanford University, and began her public service in Phoenix, Arizona. She has been married to John O'Connor since 1952, and they have three sons. She is the author, with her brother, H. Alan Day, of Lazy B, a memoir about growing up in the American Southwest. Nominated by President Reagan as Associate Justice of the Supreme Court of the United States, she took the oath of office on September 25, 1981, the first woman to do so.

Craig Joyce, editor, is Law Foundation Professor at the University of Houston Law Center, where he currently serves as codirector of the Institute for Intellectual Property and Information Law.
Praise For…
---
"With this important book, one of the most intriguing figures in American history reveals her private musings about history, the law, and her own life—both public and personal. The Majesty of the Law shows us why Sandra Day O'Connor is so compelling as a human being and so vital as a public thinker."
—Michael Beschloss, author of The Conquerors: Roosevelt, Truman and the Destruction of Hitler's Germany, 1941–1945

"Justice O'Connor's newest book will intrigue and enlighten many different readers. She discusses multiple issues, including what it's like to be on the Supreme Court, how and by whom the Court has been shaped, and the meaning of the rule of law. Her reflections on women in the law, and women in power, are especially thought-provoking. No one is better qualified than she to write about these issues, and she does so with her customary wit and clarity."
—Nan Keohane, president, Duke University

"A marvelous collection of wide-ranging and plainspoken ruminations on the Constitution, constitutionalism, and the Supreme Court by the Court's first female Justice. Justice O'Connor's keen-wittedness, honesty, and common sense are revealed throughout. Although she eloquently reveals the majesty of the law, she also brings that majesty down to earth and makes it intelligible to all of us. It is her special genius."
—Gordon S. Wood, Alva O. Way University Professor and professor of history at Brown University, author of The American Revolution: A History

"In The Majesty of the Law, Justice Sandra Day O'Connor has blended personal reflections with key professional insights to give us a richly textured account of the fascinating history, current status, and hopeful future of the rule of law. The fact that the author is destined to take her place among the most influential Justices to serve on the modern U.S. Supreme Court makes this important book all the more significant."
—James F. Simon, Martin Professor of Law at New York Law School and author of What Kind of Nation: Thomas Jefferson, John Marshall, and the Epic Struggle to Create a United States