The Conch Bearer (Paperback)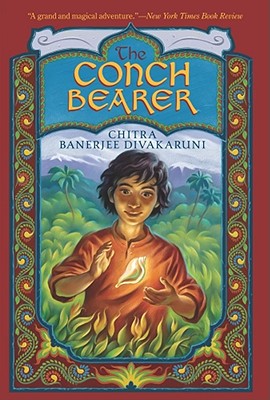 $7.99
Usually Ships in 1-5 Days
Description
---
In a dingy shack in the less-than-desirable Indian neighborhood he calls home, twelve-year-old Anand is entrusted with a conch shell that possesses mystical powers. His task is to return the shell to its rightful home many hundreds of miles away. Accompanying him are Nisha, a headstrong but resourceful child of the streets, and a mysterious man of indeterminate age and surprising resources named Abadhyatta. His quest will take him farther from home than he's ever been and will teach him more than he ever imagined -- and it will force him to make a poignant decision that will change him forever.
About the Author
---
Chitra Banerjee Divakaruni is the author of sixteen books, including "Oleander Girl", "The Mistress of Spices", "Sister of My Heart", "Palace of Illusions", and "One Amazing Thing." Her work has appeared in "The New Yorker", " The Atlantic Monthly", and "The New York Times", and has won, among other prizes, an American Book Award. Born in India, she currently lives in Texas and is the McDavid professor of Creative Writing at the University of Houston.
Praise For…
---
"This book is a real page-turner...you'll stay up late to finish it."
--Chicago Tribune




"Young readers can only hope for more from this master storyteller."
--Publishers Weekly, starred review




"The action is exciting, and the Indian setting makes this story new and different."
--Washington Post




"Divakaruni [is] a gifted storyteller....Though [she] beguiles us with the sights and sounds of an exotic place, what she really does is make us feel at home."
--Los Angeles Times