Midnight's Children (Hardcover)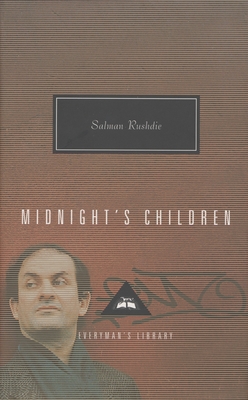 $26.00
Usually Ships in 1-5 Days
Description
---
(Book Jacket Status: Jacketed)A classic novel, in which the man who calls himself the "bomb of Bombay" chronicles the story of a child and a nation that both came into existence in 1947 and examines a whole people's capacity for carrying inherited myths and inventing new ones.
About the Author
---
Salman Rushdie is the author of several novels, including "Grimus, Midnight's Children, The Satanic Verses, Haroun and the Sea of Stories, The Moor's Last Sigh, The Ground Beneath Her Feet, Fury", and "Shalimar the Clown". He has written collections of short stories, including "East, West", and co-edited with Elizabeth West a collection of Indian literature in English, "Mirrorwork". He has also published several works of nonfiction, among them T"he Jaguar Smile, Imaginary Homelands, The Wizard of Oz, " and "Joseph Anton", a memoir of his life under the fatwa issued after the publication of "The Satanic Verses".

ANITA DESAI is the author of Fasting, Feasting, Baumgartner s Bombay, Clear Light of Day, and Diamond Dust, among other works. Three of her books have been shortlisted for the Booker Prize. Desai was born and educated in India and now lives in the New York City area.
Praise For…
---
FROM THE NEW INTRODUCTION BY Anita Desai:
"Rushdie's writing resembles a horse at full gallop that will not halt and wait. He creates an epic by turning his characters into symbols and archetypes so that their histories are lived out at several levels at one time-real and fantastic, metaphorical and symbolic . . . He is a writer of an epic-secular, irreligious, irreverent, subversive, both comic and profoundly serious . . . in short, an epic of our times."

"Huge, vital, engrossing . . . in all senses a fantastic book."
-THE SUNDAY TIMES LONDON

"In Salman Rushdie . . . India has produced a glittering novelist-one with startling imaginative and intellectual resources, a master of perpetual storytelling. Like García Márquez . . . he weaves a whole people's capacity for carrying its inherited myths-and new ones that it goes on generating-into a kind of magic carpet . . . Saleem Sinai . . . is dramatizing his past life as a prophecy, even universalizing his history as a mingling of farce and horror and matching it with thirty years of the Indian crowd's collective political history . . . As a tour de force his fantasy is irresistible."
-V.S. Pritchett, THE NEW YORKER

"One of the most important books to come out of the English-speaking world in this generation."
-THE NEW YORK REVIEW OF BOOKS