PLEASE NOTE
Books must show: IN STOCK at your desired location for same day pick-up in stores. We recommend calling stores that show low stock numbers.
Me Before You (Hardcover)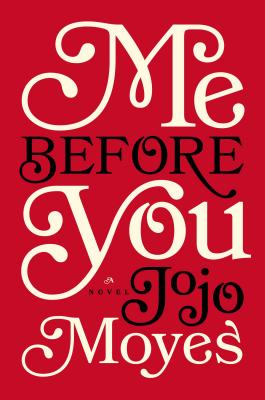 This Book Is Not Sold Online - In Store Special Order Only
January 2013 Indie Next List
---
"If you are looking for a romantic love story that will leave you in happy tears, this is the book for you! Suspend disbelief and immerse yourself in the life of Louisa Clark, who takes a job as a caretaker for a young, wealthy, disabled man. After a rocky start, Lou and Will become close, and Will urges her to expand her horizons and escape from their stifling small town. Naturally, love blooms, but can there be a happy ending for two such different people?"
— Susan Taylor, Market Block Books, Troy, NY
Description
---
A "New York Times "bestseller with more than one million copies sold. The stunning sequel, "After You," is available now.
They had nothing in common until love gave them everything to lose . . .
Louisa Clark is an ordinary girl living an exceedingly ordinary life steady boyfriend, close family who has never been farther afield than their tiny village. She takes a badly needed job working for ex Master of the Universe Will Traynor, who is wheelchair bound after an accident. Will has always lived a huge life big deals, extreme sports, worldwide travel and now he's pretty sure he cannot live the way he is.
Will is acerbic, moody, bossy but Lou refuses to treat him with kid gloves, and soon his happiness means more to her than she expected. When she learns that Will has shocking plans of his own, she sets out to show him that life is still worth living.
"A Love Story" for this generation, "Me Before You" brings to life two people who couldn t have less in common a heartbreakingly romantic novel that asks, "What do you do when making the person you love happy also means breaking your own heart?
About the Author
---
Jojo Moyes is a British novelist and journalist. She is one of only a few authors to have twice won the Romantic Novel of the Year Award by the Romantic Novelists' Association and has been translated into eleven different languages.
Praise For…
---
Praise for ME BEFORE YOU:

"When I finished this novel, I didn't want to review it: I wanted to reread it. . . . Moyes's story provokes tears that are redemptive, the opposite of gratuitous. Some situations, she forces the reader to recognize, really are worth crying over. . . . with Lou and Will she has created an affair to remember."
—New York Times Book Review, Liesl Schillinger

"An unlikely love story . . . To be devoured like candy, between tears."
—O, The Oprah Magazine

"After finishing Jojo Moyes' ME BEORE YOU, you grasp why the novel, a word-of-mouth sensation from Britain, has been sold to 28 countries. . . . by turns funny and moving but never predictable."
—USA Today (****)

"Funny, surprising and heartbreaking, populated with characters who are affecting and amusing . . . This is a thought-provoking, thoroughly entertaining novel that captures the complexity of love"
—People Magazine

"READ IT AND WEEP: Heartbreak collides with humor in Jojo Moyes's Me Before You, about the romance between a quadriplegic and his hired caregiver."
—Good Housekeeping

"Masterful . . . a heartbreaker in the best sense . . . ME BEFORE YOU is achingly hard to read at moments, and yet such a joy."
—New York Daily News

"There are books that you cannot put down. There are also books where you become so invested in the characters, you force yourself to stop reading to prolong the experience because you don't want the story to end, and that's what can happen when you read Jojo Moyes' latest book, Me Before You. . . . Moyes writes well-developed characters, and it's impossible not to care about them. You'll find yourself laughing, smiling, feeling angry and, yes, crying. My only suggestion: Me Before You should be sold with a pack of tissues."
—The Associated Press

"A hilarious, heartbreaking, riveting novel . . . I will stake my reputation on this book."
—Anne Lamott, People Magazine

"Jojo Moyes has written the perfect modern love story.  You will be astonished at what you feel, and what you hope for when you are forced to face the possibility of your own dreams. It's that good. Read it now."
—Adriana Trigiani, New York Times bestselling author of The Shoemaker's Wife

"ME BEFORE YOU is a delicious surprise—funny and hopeful and heartbreaking, the kind of story that will keep you turning pages into the night. Lou Clark and Will Traynor will capture your heart and linger there long after their story has ended."
—Eleanor Brown, New York Times bestselling author of The Weird Sisters

"Some books make you stop and think, compel you to examine your own take on life or your position or stand on an issue.  Jojo Moyes' ME BEFORE YOU will surprise you—it is impossible not to put yourself in the characters' shoes and you will find yourself thinking about the choices you might make if life changed in an instant.  I loved it."
—Lee Woodruff, New York Times bestselling author of Those We Love Most

"A lovely novel, both nontraditional and enthralling."
—Publishers Weekly, starred review

"Moyes' twisting, turning, heartbreaking novel raises provocative moral questions while developing a truly unique relationship between two people brought together by chance. With shades of David Nicholls' beloved One Day, Me Before You is the kind of book you simply can't put down—even when you realize you don't want to see it end. . . . A big-hearted, beautifully written story that teaches us it is never too late to truly start living."
—BookPage

"Moyes' latest is made heartwarming, thanks to the vibrancy of its main characters, both of whom will keep readers on their toes with their chemistry and witty repartee. . . .humorous and romantic through and through."
—Romantic Times