The Yggyssey: How Iggy Wondered What Happened to All the Ghosts, Found Out Where They Went, and Went There (Hardcover)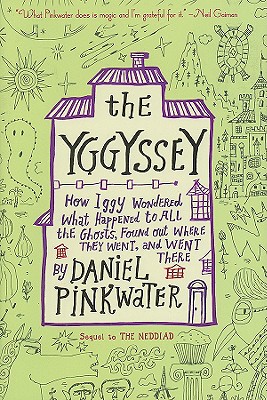 This Book Is Not Sold Online - In Store Special Order Only
January 2009 Indie Next List
---
"Daniel Pinkwater's latest follows, well, the odyssey of a girl named Yggdrasil Birnbaum. When all the ghosts in Los Angeles go missing, Yggy and her friends must travel to another plane of existence to find them. Full of Hollywood hijinks and hilarity, The Yggyssey is a pleasure to read."
— Jennifer Laughran, Books Inc., San Francisco, CA
Description
---
A sequel to critically acclaimed THE NEDDIAD told from the point of view of Ned's friend, Iggy

La Brea Woman is missing. Valentino, too. The ghosts of Los Angeles are disappearing right and left!

Iggy Birnbaum is determined to get to the bottom of this mystery, no matter what Neddie Wentworthstein and Seamus Finn say.

There's just the little matter of traveling to another plane of existence, firstand then, of course, not pissing off a witch once she gets there.

From L.A. to Old New Hackensack, fans of The Neddiad will be delighted to join up with Iggy, Neddie, Seamus, and the usual apparitional entourage for another weird and wonderful adventure by Daniel Pinkwater. As Neil Gaiman said about the first book: "it's funny and tender and strange and impossible to describe. What Pinkwater does is magic and I'm grateful for it."

THE IGGYSSEY is vintage Pinkwater: laugh out loud funny, incredible characters, dialogue, humor. And like THE NEDDIAD, this book will be similarly illustrated throughout by Calef Brown.
About the Author
---
Daniel Pinkwater is the author of many books for children, including "Bear in Love," illustrated by Will Hillenbrand, and a series of books about Mrs. Noodlekugel, illustrated by Adam Stower. He lives in New York State.

Calef Brown began his career as a tour guide at an early age, when he discovered the simple joy of pointing things out. He is also an artist, writer, and frequently a blue elephant. Mr. Brown s illustrations have appeared in many magazines and newspapers, and his paintings have been exhibited in N.Y., L.A., S.F., and other places without fancy initials, like Osaka and Rome. He lives in Maine.
Praise For…
---
"Once again, Pinkwater combines a goofy plot, myth and fairy tale references, and an obvious affection for yesteryear Los Angeles in a supernaturally funny read."--Booklist "In this amiably goofy sequel to The Neddiad (2007), sharp-tongued Yggdrasil (Iggy) Birnbaum takes center stage . . . Iggy breaks her narrative off abruptly in the midst of the happy ending, promising a further sequel to readers who find trips into Pinkwater's odd noggin diverting."--Kirkus Reviews "Nobody does this kind of witty confection better than Pinkwater, the original point-and-click mind."--Horn Book "Like The Neddiad, this sequel packs wacky characters, absurd plot twists and improbable outcomesand every page offers goofy, offbeat fun . . . With his trio once again victorious, Pinkwater serves up another dose of lighthearted entertainment."--Publishers Weekly "The latest Pinkwater is nothing special, only the usual wonderful . . . There is fun all along the way . . . in short, another Pinkwater, and that is enough."--New York Times Book Review