The Best American Nonrequired Reading (Paperback)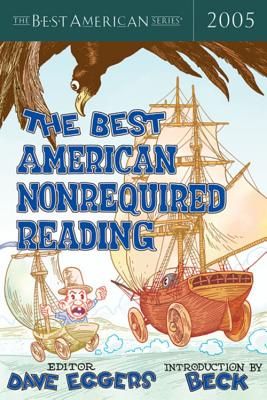 $21.95
Usually Ships in 1-5 Days
Description
---
The Best American Series First, Best, and Best-Selling

The Best American series has been the premier annual showcase for the country's finest short fiction and nonfiction since 1915. For each volume, the very best pieces are selected by a leading writer in the field, making the Best American series the most respected--and most popular--of its kind.

The Best American Nonrequired Reading 2005 includes

Daniel Alarcón • Aimee Bender • Dan Chaon • Daniel Clowes • Tish Durkin • Stephen Elliott • Al Franken • Jhumpa Lahiri • Rattawut Lapcharoensap • Anders Nilsen • Georges Saunders • William T. Vollmann • and others

Dave Eggers, editor, is the author of A Heartbreaking Work of Staggering Genius, You Shall Know Our Velocity!, and How We Are Hungry, and the editor of McSweeney's. He is the founder of 826 Valencia, a San Francisco writing lab for young people.

Beck, guest introducer, whose single "Loser" was instantly labeled an anthem for the slacker generation, is also known for his Grammy Award-winning albums Odelay and Mutations.
About the Author
---
Dave Eggers is the bestselling author of seven books, including "A Hologram for the King", a finalist for the National Book Award; "Zeitoun", winner of the American Book Award and Dayton Literary Peace Prize; and" What Is the What", which was a finalist for the National Book Critics" "Circle Award and won France s "Prix Medici". That book, about Valentino" "Achak Deng, a survivor of the civil war in Sudan, gave birth to the Valentino Achak Deng Foundation, which operates a secondary school in South Sudan run by Mr. Deng. Eggers is the founder and editor of McSweeney s, an independent publishing house based in San Francisco that produces a quarterly journal, a monthly magazine, "The Believer: ", a" "quarterly DVD of short films and documentaries, " Wholphin", and an" "oral history series, Voice of Witness. In 2002, with Ninive Calegari he cofounded 826 Valencia, a nonprofit writing and tutoring center for youth in the Mission District of San Francisco. Local communities have since opened sister 826 centers in Chicago, Los Angeles, New York, Ann Arbor, Seattle, Boston, and Washington, D.C. Eggers is also the founder of ScholarMatch, a program that matches donors with students needing funds for college tuition. A native of Chicago, Eggers now lives in Northern California with his wife and two children.""