Christmas at Eagle Pond (Hardcover)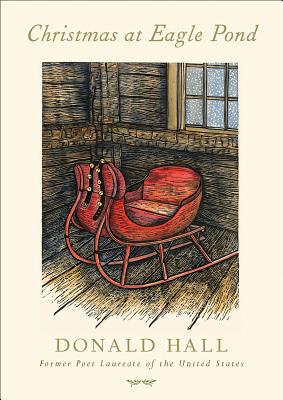 $14.95
Usually Ships in 1-5 Days
Description
---
Donald Hall draws on his own childhood memories and gives himself the thing he most wanted but didn't get as a boy: a Christmas at Eagle Pond.
It's the Christmas season of 1940, and twelve-year-old Donnie takes the train to visit his grandparents' place in rural New Hampshire. Once there, he quickly settles into the farm's routines. In the barn, Gramp milks the cows and entertains his grandson by speaking rhymed pieces, while Donnie's eyes are drawn to an empty stall that houses a graceful, cobwebby sleigh. Now Model A's speed over the wintry roads, which must be plowed, and the beautiful sleigh has become obsolete. When the church pageant is over, the gifts are exchanged, and the remains of the Christmas feast put away, the air becomes heavy with fine snowflakes the kind that fall at the start of a big storm and everyone wonders, how will Donnie get back to his parents on time?
About the Author
---
Donald Hall is the fourteenth poet laureate of the United States and the author of more than two dozen books of poems and prose, including White and the Taste of Stone: Selected Poems 1946-2006. His work has garnered many honors, among them the National Book Critics Cirlce Award and the Los Angeles Times Book Prize. A member of the American Academy of Arts and Letters, Hall continues to inhabit the New Hampshire farmhouse where he and Jane Kenyon lived together.

Caldecott Medalist Mary Azarian is a consummate gardener and a skilled and original woodblock artist. Many of her prints are heavily influenced by her love of gardening, and her turn-of-the-century farmhouse is surrounded by gardens that reveal an artist's vision. Mary Azarian received the 1999 Caldecott Medal for SNOWFLAKE BENTLEY, written by Jacqueline Briggs Martin. She lives, skis, and gardens in Vermont.