The Ear, the Eye, and the Arm (Paperback)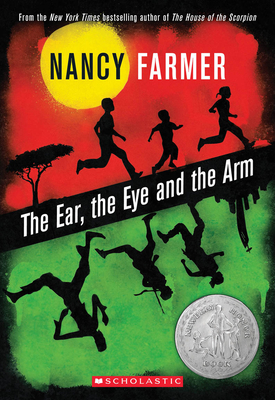 Description
---
This Newbery Honor book by award-winning, bestselling author Nancy Farmer is being reissued in paperback!

The year is 2194, and Tendai, Rita, and Kuda are the children of Zimbabwe's wealthy and powerful chief of security. They've escaped from their father's estate to explore the dangerous city of Harare--and promptly disappear. Their parents call in the Ear, the Eye, and the Arm, detectives whose exposure to nuclear waste has given them special powers. Together they must save the children from the evils of the past, the technology of the future, and criminals with plans much more sinister than anyone could have imagined.
About the Author
---
Nancy Farmer has written three Newbery Honor books: "The Ear, the Eye and the Arm"; "A Girl Named Disaster"; and "The House of the Scorpion", which, in 2002, also won the National Book Award and the Printz Honor. Other books include The Lord of Opium", "The Sea of Trolls", "The Land of the Silver Apples", "The Islands of the Blessed", "Do You Know Me", "The Warm Place", and three picture books for young children. She grew up on the Arizona-Mexico border and now lives with her family in the Chiricahua Mountains of Arizona.
Praise For…
---
* "Weaving African tribal language and lore . . . into a rich tapestry featuring a witty projection of the future, a score of vividly realized characters, and a nonstop adventure culminating in a denouement that's at once taut, comic, and touching, Farmer has created a splendidly imaginative fantasy." --KIRKUS, starred review
* "This tale overflows with wise insights, lessons and observations about the ties between heritage and family." --PUBLISHERS WEEKLY, starred review
* "In its fundamental suspense and appeal the book bears an odd but satisfying resemblance to The Wizard of Oz--witches, scarecrows, and all." --THE BULLETIN OF THE CENTER FOR CHILDREN'S BOOKS, starred review