Drama (Paperback)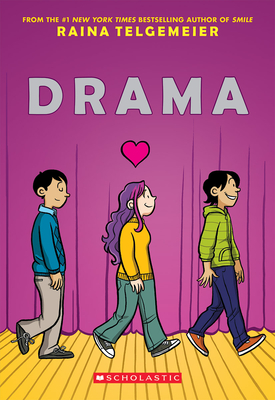 Staff Reviews
---
Normal
0
false
false
false
EN-US
X-NONE
X-NONE
MicrosoftInternetExplorer4
/* Style Definitions */
table.MsoNormalTable
{mso-style-name:"Table Normal";
mso-tstyle-rowband-size:0;
mso-tstyle-colband-size:0;
mso-style-noshow:yes;
mso-style-priority:99;
mso-style-qformat:yes;
mso-style-parent:"";
mso-padding-alt:0in 5.4pt 0in 5.4pt;
mso-para-margin:0in;
mso-para-margin-bottom:.0001pt;
mso-pagination:widow-orphan;
font-size:11.0pt;
font-family:"Calibri","sans-serif";
mso-ascii-font-family:Calibri;
mso-ascii-theme-font:minor-latin;
mso-fareast-font-family:"Times New Roman";
mso-fareast-theme-font:minor-fareast;
mso-hansi-font-family:Calibri;
mso-hansi-theme-font:minor-latin;
mso-bidi-font-family:"Times New Roman";
mso-bidi-theme-font:minor-bidi;}
As a former Thespian(super drama nerd) I was set up to fall in love withthis graphic novel right from the start. Lucky for me, Raina Telgemeierreally nails the drama of, well, drama class. She even covers that awkwardmoment when a boy is seemingly flirting with you, only to discover he hasthe hots for one of your guy friends. Passing notes (check yes, no, ormaybe)prom, and discovering your value is just as high offstage as on.Teens will relate and adults will wax nostalgic(c'mon ladies, don't lie).
— Renee, Books Inc. in the Castro
Description
---
From Raina Telgemeier, the #1 "New York Times" bestselling, multiple Eisner Award-winning author of "Smile" and "Sisters"
Callie loves theater. And while she would totally try out for her middle school's production of "Moon over Mississippi," she can't really sing. Instead she's the set designer for the drama department's stage crew, and this year she's determined to create a set worthy of Broadway on a middle-school budget. But how can she, when she doesn't know much about carpentry, ticket sales are down, and the crew members are having trouble working together? Not to mention the onstage AND offstage drama that occurs once the actors are chosen. And when two cute brothers enter the picture, things get even crazier

About the Author
---
Raina Telgemeier is the #1 "New York Times" bestselling, multiple Eisner Award winning creator of "Smile" and "Sisters," which are both graphic memoirs based on her childhood. She is also the creator of "Drama," which was named a Stonewall Honor Book and was selected for YALSA s Top Ten Great Graphic Novels for Teens. Raina lives in the San Francisco Bay Area. To learn more, visit her online at www.goRaina.com. "
Praise For…
---
Praise for SMILE

"An utterly charming graphic memoir of tooth trauma, first crushes and fickle friends, sweetly reminiscent of Judy Blume's work. . . . Irresistible, funny and touchinga must read for all teenage girls." --KIRKUS REVIEWS

"A charming addition to the body of young adult literature that focuses on the trials and tribulations of the slightly nerdy girl." --PUBLISHERS WEEKLY

"It hits home partly because there is nothing else out there like it." --THE NEW YORK TIMES BOOK REVIEW