PLEASE NOTE
Books must show: IN STOCK at your desired location for same day pick-up in stores. We recommend calling stores that show low stock numbers.
Been Doon So Long: A Randall Grahm Vinthology (Hardcover)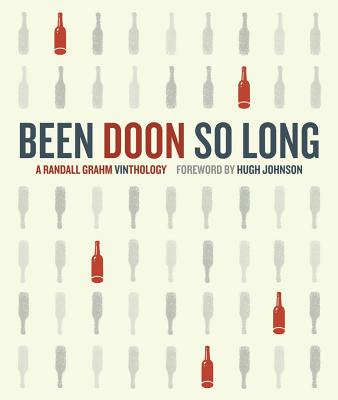 This Book Is Not Sold Online - In Store Special Order Only
Description
---
This eclectic collection at last brings to a wide audience the irreverent, zany voice of Randall Grahm, visionary California winemaker and founder of Bonny Doon Vineyard. An iconoclastic send-up of the wine industry and a celebration of unsung grape varieties, the book features, among other things, Grahm's hilarious literary parodies--Joyce, Kafka, Pynchon, Salinger, and others--together with song lyrics, other snarky satires, poems, lectures, and more. Subtle undertones of gravitas with faint suggestions of earnestness lie beneath the humor, however, as Grahm passionately addresses the state of wine today: Where in wine does greatness truly repose? How might true originality in New World wines be found? Do New World winemakers have the integrity and courage to unreservedly embrace "terroir"? This trove includes a very personal take on Dante's "Inferno" (Grahm's own vision of Wine Hell) and a collection of tunes from the rock opera Born to Rhone. Other pieces offer a fascinating glimpse into the history of the Rhone Ranger wine movement and of Bonny Doon itself, told through the story of its adventurous wine labels. "Been Doon So Long" is a highly entertaining journey to find the truth of all things that may be found in the unlikely medium of a wineglass.
About the Author
---
Randall Grahm's writing appears in the "World of Fine Wine "magazine. He has been inducted into Who's Who of Cooking in America and named Wine & Spirits Professional of the Year by the James Beard Foundation.

Hugh Johnson, widely regarded as the world's foremost wine writer, is known to millions through his internationally best-selling wine books, including his annual "Pocket Wine Book, The World Atlas of Wine, Wine, The Story of Wine, " and "How to Enjoy Your Wine." A highly respected editor and broadcaster, Johnson has been president of the "Sunday Times" Wine Club since 1973 and of the Circle of Wine Writers since 1997. He has appeared in several television series. Johnson was the first wine editor of "Vogue "and is an editorial advisor to "The World of Fine Wine." Johnson, who is also passionate about gardening and trees, is author of "The International Book of Trees "and "Principles of Gardening: The Practice of the Gardener s Art." For thirty years, he has written the monthly Tradescant s Diary column for "The Garden "magazine.