Sunshine (Mass Market Paperbound)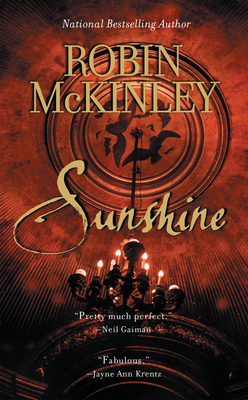 $7.99
Usually Ships in 1-5 Days
Staff Reviews
---
Normal
0
false
false
false
EN-US
X-NONE
X-NONE
MicrosoftInternetExplorer4
st1\:*{behavior:url(#ieooui) }
/* Style Definitions */
table.MsoNormalTable
{mso-style-name:"Table Normal";
mso-tstyle-rowband-size:0;
mso-tstyle-colband-size:0;
mso-style-noshow:yes;
mso-style-priority:99;
mso-style-qformat:yes;
mso-style-parent:"";
mso-padding-alt:0in 5.4pt 0in 5.4pt;
mso-para-margin:0in;
mso-para-margin-bottom:.0001pt;
mso-pagination:widow-orphan;
font-size:11.0pt;
font-family:"Calibri","sans-serif";
mso-ascii-font-family:Calibri;
mso-ascii-theme-font:minor-latin;
mso-fareast-font-family:"Times New Roman";
mso-fareast-theme-font:minor-fareast;
mso-hansi-font-family:Calibri;
mso-hansi-theme-font:minor-latin;
mso-bidi-font-family:"Times New Roman";
mso-bidi-theme-font:minor-bidi;}
Quite possibly the greatest
vampire novel I have ever read. This is not merely hyperbole; Robin McKinley
has created a world of magic, detailing the aftermath of a war against vampires
and demons with an end result of government-registered magic. Where the only
good demon is a part-blood demon and that's only if your "power" is the kind
that pours the hottest cup of coffee. I dare you to read this book without
wanting Sunshine's cinnamon rolls 'big as your head' or a slice of her 'death
by chocolate.' The romance is believable but not over the top as some other
glittery vampire novels. Constantine
will win your heart but you will want Sunshine to be your best friend. This
summer marks the fourth re-reading and every time I discover something new.
This is my chicken soup book and the novel I purchase for friends whenever I'm
wondering what to get them for a birthday or I think it is time they learn how
well vampires and baking go together.
— Renee from Market Street
Description
---
There hadn't been any trouble out at the lake for years, and Sunshine just needed a spot where she could be alone with her thoughts.
Vampires never entered her mind. Until they found her.
About the Author
---
Robin McKinley has won various awards and citations for her writing, including the Newbery Medal for "The Hero and the Crown" and a Newbery Honor for "The Blue Sword." Her other books include "Sunshine"; the "New York Times" bestseller "Spindle's End"; two novel-length retellings of the fairy tale "Beauty and the Beast," "Beauty and Rose Daughter"; and a retelling of the "Robin Hood" legend, "The Outlaws of Sherwood." She lives with her husband, the English writer Peter Dickinson.