The House at Tyneford (Paperback)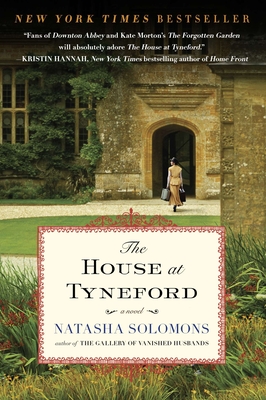 January 2012 Indie Next List
---
"The House at Tyneford is a lovely, old-fashioned novel set at the beginning of World War II on a remote English country estate where Elise has come to work as a housemaid, after having fled the Jewish persecutions in Vienna. Told in retrospective, the tale details how Elise grows from a spoiled girl into an exceptionally strong and adaptable young woman who fights to save both the family she left behind as well as the family she has come to serve."
— Laura L. Hansen, Bookin' It, Little Falls, MN
Description
---
The start of an affair, the end of an era.
Fans of Kate Morton's "The Forgotten Garden, " Catherine Bailey's "The Secret Rooms, "and TV's "Downton Abbey" will love this "New York Times "bestselling sweeping historical novel of love and loss. It's the spring of 1938 and no longer safe to be a Jew in Vienna. Nineteen-year-old Elise Landau is forced to leave her glittering life of parties and champagne to become a parlor maid in England. She arrives at Tyneford, the great house on the bay, where servants polish silver and serve drinks on the lawn. But war is coming, and the world is changing. When the master of Tyneford's young son, Kit, returns home, he and Elise strike up an unlikely friendship that will transform Tyneford and Elise forever.
About the Author
---
(Natasha Solomons est nee en 1980. A neuf ans, elle occupa son premier emploi celui de bergere sur la colline de Bulbarrow, decor de son premier roman "Jack Rosenblum reve en anglais" (Calmann-Levy, 2011). "La Galerie des maris disparus" est son troisieme ouvrage apres "Le Manoir de Tyneford" (Calmann-Levy, 2012). Calmann-Levy, 2011).
Praise For…
---
"Natasha Solomons has written a lovely, atmospheric novel full of charming characters and good, old fashioned storytelling.  Fans of Downton Abbey and Kate Morton's The Forgotten Garden will absolutely adore The House at Tyneford."—Kristin Hannah, New York Times bestselling author of Fly Away
"The House at Tyneford is a wonderful, old-fashioned novel that takes you back in time to the manor homes, aristocracy and domestic servants of England. In this setting, Natasha Solomons gives us a courageous heroine whose incredible love story will keep you in suspense until the final page."—Kathleen Grissom, author of The Kitchen House   "The House at Tyneford is an exquisite tale of love, family, suspense, and survival. Capturing with astonishing detail and realism a vanished world of desire and hope trapped beneath rigid class convention, Natasha Solomons's stunning new novel tells the story of Elise Landau, a Jewish Austrian teenager from a family of artists, who is forced to flee her home in Vienna carrying only a guide to household management and her father's last novel, hidden on pages stuffed inside a viola. Elise hides as a parlor maid in a fine English country estate, but soon she discovers that passion can be found in the most unexpected places. Already a bestseller in Britain, American readers will thrill to The House at Tyneford."—Katherine Howe, New York Times bestselling author of The House of Velvet and Glass
"Like Downton, this romance compellingly explores the upstairs-downstairs dynamic of estate life."—Entertainment Weekly
"Solomons's poignant tale provides richly textured details that hold the reader's interest. Fans of Ann Patchett will find Solomons's style similar and will appreciate how the subdued tone and the quiet of the countryside contrast with the roar of war."—Library Journal
"Halfway though, I was so invested in this gorgeously written story that I could barely read on, fearful that what I wished to happen would never come to pass. Permeated with an exquisite sadness, it reminded me of Atonement . . . I adored this book."—Donna Marchetti, The Cleveland Plain Dealer