Pudd'nhead Wilson (Mass Market Paperbound)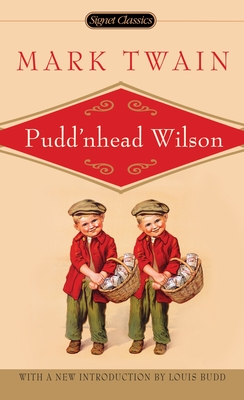 $4.95
Usually Ships in 1-5 Days
Description
---
Mark Twain takes a hard look at the consequences of slavery in America in this classic satire.
Set in a town on the Mississippi during the pre-Civil War era, "Pudd nhead Wilson" tackles the seminal American issue of slavery in a tragicomedy of switched identities. What happens when a child born free and a child born a slave change places? The result is a biting social commentary with enduring relevance, and a good old-fashioned murder mystery. It also introduces one of Twain's favorite characters: Pudd nhead Wilson, an intellectual with a penchant for amateur sleuthing. F.R. Leavis proclaimed this novel the masterly work of a great writer.
With an Introduction by Louis Budd.
About the Author
---
Mark Twain, born Samuel Langhorne Clemens, was an American humorist and writer, who is best known for his enduring novels The Adventures of Tom Sawyer and Adventures of Huckleberry Finn, which has been called the Great American Novel. Raised in Hannibal, Missouri, Twain held a variety of jobs including typesetter, riverboat pilot, and miner before achieving nationwide attention for his work as a journalist with The Celebrated Jumping Frog of Calaveras County. He earned critical and popular praise for his wit and enjoyed a successful career as a public speaker in addition to his writing. Twain s works were remarkable for his ability to capture colloquial speech, although his adherence to the vernacular of the time has resulted in the suppression of his works by schools in modern times. Twain s birth in 1835 coincided with a visit by Halley s Comet, and Twain predicted, accurately, that he would go out with it as well, dying the day following the comet s return in 1910.