PLEASE NOTE
Books must show: IN STOCK at your desired location for same day pick-up in stores. We recommend calling stores that show low stock numbers.
Junie B. Jones y Su Gran Bocota: (Spanish Language Edition of Junie B. Jones and Her Big Fat Mouth) (Paperback)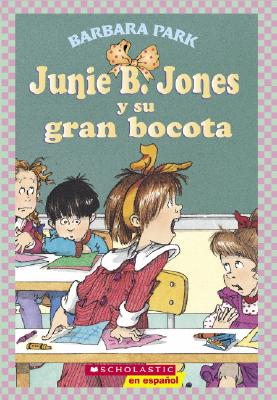 $4.99
Usually Ships in 1-5 Days
Description
---
Junie's having a rough week. First she got punishment for shooting off her mouth in kindergarten. And now she's in big trouble again! 'Cause Monday is Job Day, and Junie B. told her class that she's got the "bestest" job of all. Only, what the heck is it?
La semana de Junie no va nada bien. Primero, la castigan por hablar mas de la cuenta. Y ahora vuelve a meterse en un lio! Porque el lunes es el dia del trabajo y Junie B. le dijo a la clase que ella tenia el mejor trabajo de todos. Solo que, que trabajo es ese?
About the Author
---
Barbara Park is one of today's funniest and most popular authors for middle-graders. Her many successful novels include "Mick Harte Was Here, " which received fifteen state Children's Choice awards, including the Texas Bluebonnet Award; "The Kid in the Red Jacket;" and "Skinnybones." She is also the best-selling author of the Junie B. Jones books, and "Psssst...It's Me, the Bogeyman, " a picture book.
Ms. Park lives in Scottsdale, Arizona, with her husband, Richard.
Denise Brunkus has illustrated more than sixty books for children, most notably the bestselling Junie B. Jones series by Barbara Park, Read All About It! by Laura Bush and Jenna Bush, and Charlie Hits It Big by Deborah Blumenthal. Denise is basically a neat person, so adding smudges and smears to the art for Sloppy Joe was an unexpected thrill. She lives in Massachusetts.
Denise Brunkus es una conocida ilustradora de libros para ninos con mas de sesenta libros publicados, entre los que se destacan la exitosa serie Junie B. Jones, Charlie Hits It Big, Chocolatina y Groundhog Gets a Say. Vive en Massachusetts con su esposo y su gran coleccion de libros.