Sidekicks (Paperback)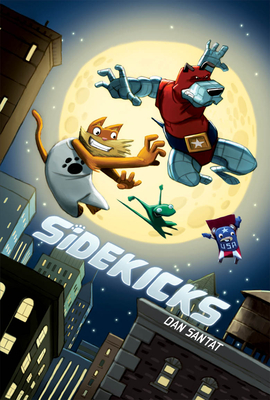 $12.99
Available - Click Title to See Store Inventory. Books must show IN STOCK at your desired location for same day pick-up.
Description
---
Look up in the sky It's a graphic novel about SUPERHERO PETS from CALDECOTT MEDALIST DAN SANTAT
Captain Amazing, superhero and savior of Metro City, is getting old. He's out all hours battling arch-villains, catching thieves, and helping little old ladies cross the street. He doesn't even have time for his house full of pets. He needs - a SIDEKICK
Captain Amazing's four pets agree. But each one of them thinks HE should get the sidekick spot - and a chance for one-on-one time with the Captain. Get ready for sibling rivalry royale as pets with superpowers duke it out for the one thing they all want - a super family.
A BOLD and BRILLIANT graphic novel romp by Caldecott Medalist Dan Santat.
About the Author
---
Dan Santat, the author and illustrator of The Guild of Geniuses. He's also developing his own animated television show.