Stormbreaker (Hardcover)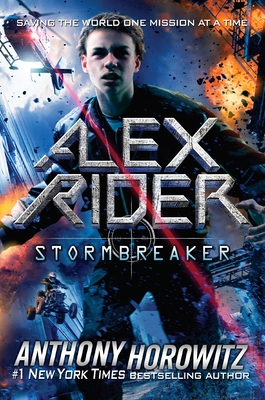 $17.99
Usually Ships in 1-5 Days
Description
---
They told him his uncle died in an accident. He wasn't wearing his seatbelt, they said. But when fourteen-year-old Alex finds his uncle's windshield riddled with bullet holes, he knows it was no accident. What he doesn't know yet is that his uncle was killed while on a top-secret mission. But he is about to, and once he does, there is no turning back. Finding himself in the middle of terrorists, Alex must outsmart the people who want him dead. The government has given him the technology, but only he can provide the courage. Should he fail, every child in England will be murdered in cold blood.
The first in a thrilling new series by British writer Anthony Horowitz, Stormbreaker will have pulses racing from start to finish.
About the Author
---
One of the UK s most prolific and successful writers, ANTHONY HOROWITZ may have committed more (fictional) murders than any other living author. His most recent Sherlock Holmes novel, "Moriarty", is already an industry sensation; its predecessor, "The House of Silk", has sold over 450,000 copies worldwide in more than 35 countries. His bestselling Alex Rider series for Young Adults has sold more than 19 million copies worldwide. As a TV screenwriter he created both "Midsomer Murders" and the BAFTA-winning "Foyle s War", both of which were featured on PBS's "Masterpiece Mystery"; other TV work includes "Poirot" and the widely acclaimed mini-series "Collision and Injustice". Anthony regularly contributes to a wide variety of national newspapers and magazines, and in 2014 he was awarded an OBE for his services to literature. He lives in London.

John Blackford is a Reno-based illustrator with many projects to his credit, including his work as an artist, sign writer, and designer for Hollywood studios. His work has been published by 'U.S. Kids' and 'Humpty Dumpty' Magazines, as well as by Apple Press, Walden Press, Dalmatian Press, Treasure Publishing, and The American Bible Society. He has also contributed illustration and design work to numerous successful advertising campaigns.