Love & War: Twenty Years, Three Presidents, Two Daughters & One Louisiana Home (Hardcover)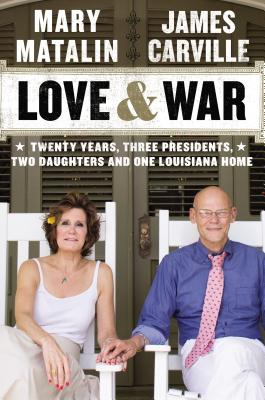 This Book Is Not Sold Online - In Store Special Order Only
Description
---
For twenty years, James Carville and Mary Matalin have held the mantle of the nation's most politically opposed, ideologically mismatched, and intensely opinionated couple. In this follow-up to their groundbreaking "All's Fair: Love, War, and Running for President," Carville and Matalin take a look at how they and America have changed in the last two decades. If nothing else, this new collaboration proves that after twenty years of marriage they can still manage to agree on a few things.
"Love & War "traces, in their two distinct voices, James and Mary's story from the end of the 1992 presidential campaign where he managed Bill Clinton's electoral triumph while she suffered defeat as George H. W. Bush's key strategist till now. Mary focuses on issues of family, faith, and foreign enemies and offers insights from her kitchen table as well as the White House Cabinet Room, while James's concentration is politics and love the triumphant and troubled Clinton era, George W. Bush's complicated presidency, the election of Barack Obama, the rise of the corrosive partisanship that dominates political life in Washington today, and the overriding abiding romance he holds for his native Louisiana and his wife and children. Together, the Carville-Matalins reflect on raising two daughters in the pressure cooker of the nation's capital, and their momentous 2008 decision to leave D.C. and move their family to New Orleans. Post-Katrina, James and Mary's efforts to rebuild and promote that city have become a central part of their lives and a poignant metaphor for moving the nation forward.
A fascinating look at the last two decades in American politics and an intimate, quick-witted primer on grown-up relationships and values, "Love & War "provides unprecedented insight into one of our nation's most intriguing and powerful couples. With their natural charm and sharp intelligence, Carville and Matalin have written undoubtedly the most spirited memoir of the year.
About the Author
---
James Carville is the best-known and most-loved political consultant in American history. He is also a speaker, talk-show host, actor, and author withsix "New York Times" bestsellers to his credit. Part of a large Southern family, he grew up without a television and loved to listen to the stories his mama told. Mr. Carville lives with his wife, Mary Matalin, and their two daughters in New Orleans.

Mary Matalin served as assistant to President George W. Bush and counselor to Vice President Dick Cheney. She hosted CNN's "Crossfire, " was founding cohost of "Equal Time, " and recently starred in Steven Soderbergh and George Clooney's "K Street." She also co-authored with her husband, James Carville, the bestselling "All's Fair: Love, War, and Running for President." She and Carville reside in Virginia with their daughters, Matalin "Matty" Carville and Emerson Normand Carville, as well as three dogs, four cats, two hamsters, and two turtles (two of which coincidentally are ingredients in her husband's gumbo). At PTA meetings, she is known to remind people that she is an expert on children with attention deficit hyperactivity disorder, having married one in 1993.
Praise For…
---
*The New York Times bestseller*

"Compelling … A solid memoir of political lives from both sides of the spectrum"—Kirkus
 
"Compelling … the voices are the glue for and the animating features of an ultimately tender book that shines a light on their successful union, not to mention the Crescent City, and shows how big and small a role politics plays in our lives."—USA Today