Ghostwalk (Paperback)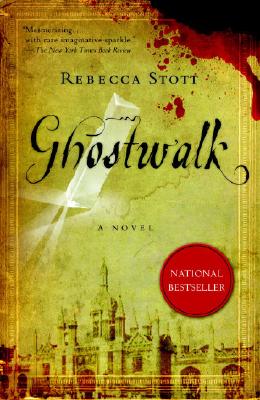 $15.00
Usually Ships in 1-5 Days
Description
---
In 2002, a Cambridge historian is found dead, floating down the river Cam, a glass prism in her hand, after researching a book about a series of suspicious circumstances surrounding Newton's appointment as a Fellow of Trinity College, Cambridge, in 1667. That year, two Fellows died by falling down staircases, apparently drunk; another died in a field, apparently drunk; and a fourth was expelled, having gone mad–leaving vacancies for new appointments and paving the way for Newton's extraordinary scientific discoveries. When Lydia Brooke, at the request of her ex-lover, the historian's son, steps in to finish the book, strange shows of light begin to play on the walls, and papers disappear only to reappear elsewhere. And when events escalate to murder, and Lydia's rekindled romance appears increasingly implicated in the danger, the present becomes entangled with the seventeenth century, with Isaac Newton at the center of the mystery.

Filled with evocative descriptions of Cambridge, past and present, of seventeenth-century glassmaking, alchemy, the Great Plague, and Newton's scientific innovations, Ghostwalk centers on a real historical mystery that Rebecca Stott has uncovered, involving Newton's alchemy. A riveting literary thriller, Ghostwalk is a rare debut that will change the way most of us think about scientific innovation, our perception of time, and the force of history.
About the Author
---
Rebecca Stott est ecrivain et presentatrice radio. Membre du departement d histoire des sciences de Cambridge, elle enseigne la litterature anglaise et l ecriture a l Universite d East Anglia. Elle est notamment l auteur d un essai sur Darwin. Son precedent roman, Le Manuscrit de Cambridge (Lattes, 2010) a ete salue par la critique internationale.
Praise For…
---
"[Ghostwalk] has a scholarly authority and imaginative sparkle all too rare. . . Mesmerizing . . . Rebecca Stott . . . has accomplished something distinctively fresh." —The New York Times Book Review

"A hypnotic brew of speculation, intrigue and murder. . . You can't help but feel swept away."
—The Washington Post Book World

"Mesmerizing."
–Booklist (starred review)

"Truly haunting."
–New York Daily News

"Wonderfully written."
— USA TODAY

"Fiercely intelligent."
–The Los Angeles Times

"Ambitious."
–New Yorker

"Most impressive."
–The Observer (London)

"Eerily compelling."
–Time Out (London)

"Spellbinding."
–Kirkus Reviews (starred review)

"Stunning."
–Publishers Weekly (starred review)