The Book of Joe (Paperback)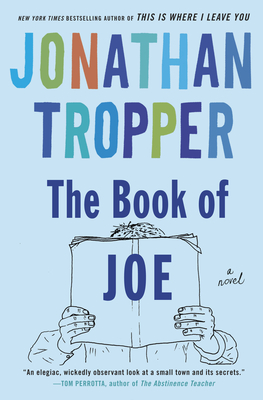 Description
---
Right after high school, Joe Goffman left sleepy Bush Falls, Connecticut and never looked back. Then he wrote a novel savaging everything in town, a novel that became a national bestseller and a huge hit movie. Fifteen years later, Joe is struggling to avoid the sophomore slump with his next novel when he gets a call: his father's had a stroke, so it's back to Bush Falls for the town's most famous pariah. His brother avoids him, his former classmates beat him up, and the members of the book club just hurl their copies of Bush Falls at his house. But with the help of some old friends, Joe discovers that coming home isn't all bad--and that maybe the best things in life are second chances.
Fans of Nick Hornby and Jennifer Weiner will love this book, by turns howling funny, fiercely intelligent, and achingly poignant. As evidenced by The Book of Joe's success in both the foreign and movie markets, Jonathan Tropper has created a compelling, incredibly resonant story.
"From the Hardcover edition.
About the Author
---
Jonathan Tropper is the author of "This Is Where I Leave You", "How to Talk to a Widower", "Everything Changes, "and "The Book of Joe". He lives with his family in Westchester, New York, where he teaches writing at Manhattanville College.
Praise For…
---
"A beautifully crafted book of enormous heart, humility, wit, honesty, and vulnerability. You want to call your friends at 3:00 AM and read whole passages out loud. You want to press it into the hands of strangers. You cannot stop thinking about it because it has rearranged your very molecules. You know that kind of book? This is that kind of book. The Book of Joe is utterly magnificent. I wish I'd written it myself."—Augusten Burroughs, author of Running with Scissors

"The Book of Joe is an elegiac, wickedly observant look at a small town and its secrets. In Jonathan Tropper's highly readable novel, the problem isn't that you can't go home again, it's that eventually you have to, whether you like it or not."—Tom Perrotta, author of Election and Joe College

"A sweet, deft and sentimental coming-of-age-at-34 story. .... [Tropper's] humor keeps his tale buoyant."—Daily News (NY)

"The Book of Joe will make you laugh and cry. Tropper has a very readable style, and Joe is a character you can connect with, warts and all."—Associated Press