Unspoken (Hardcover)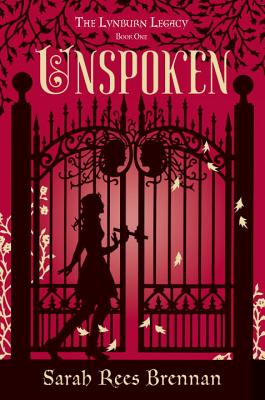 $18.99
Usually Ships in 1-5 Days
Staff Reviews
---
This book--this book!! I cannot even begin to properly describe my love for this book.
All her life Kami has had a voice in her head - she calls it her imaginary friend. It's normal for her, comforting even. Then one day, a boy moves in to town and this boy has a special voice, a familiar voice. Yes, he is the voice inside Kami's head. But how did this link become forged? Why?
The book is choc-full of sorcery, romance, hilarity, life-and-death situations - in short, it's near perfect. Brennan's dialogue is quick and easy and rings true. It's a fantastic summer read for teens who want something fun with a dash of supernatural and a pinch (ok maybe a few pinches) of romance. And make sure you're on the look out for Untold - the follow-up to Unspoken. And if you enjoyed this one, check out Brennan's other series The Demon's Lexicon. Just as fun!!
— Katherine from Books Inc. Laurel Village
July 2012 Indie Next List
---
"In the first of a new trilogy, Brennan introduces Kami and the small English town of Sorry-in-the-Vale. Kami has always been different, largely due to the imaginary friend, Jared, she talks to in her head. When descendants of the town's founding family, the Lynburns, move back, Kami meets charming, attractive Ash and his more abrasive cousin. Kami, a journalist at heart, begins investigating local animal mutilations and ends up stuck in an elevator with the obnoxious cousin, and that is when she discovers he is Jared, and he is definitely not imaginary! This book focuses on Kami and Jared learning to accept that the other actually exists while investigating who is killing animals and who is now trying to kill Kami. I can't wait for the sequel!"
— Anne Kimbol, Murder By The Book, Houston, TX
Description
---
A modern, magical twist on the Gothic Romance and Girl Detective genres, this book will appeal to fans of both Beautiful Creatures and the Mortal Instruments series. Reviewers have praised the take-charge heroine and the spellbinding romance.

Bound together. Worlds apart.

Kami Glass is in love with someone she's never met—a boy she's talked to in her head since she was born. This has made her an outsider in the sleepy English town of Sorry-in-the-Vale, but she has learned ways to turn that to her advantage. Her life seems to be in order, until disturbing events begin to occur. There has been screaming in the woods and the manor overlooking the town has lit up for the first time in 10 years. . . . The Lynburn family, who ruled the town a generation ago and who all left without warning, have returned. Now Kami can see that the town she has known and loved all her life is hiding a multitude of secrets—and a murderer. The key to it all just might be the boy in her head. The boy she thought was imaginary is real, and definitely and deliciously dangerous.

"A sparkling fantasy that will make you laugh and break your heart." --Cassandra Clare, New York Times bestselling author

"A darkly funny, deliciously thrilling Gothic." --Kelley Armstrong, New York Times bestselling author

"Readers will laugh, shiver, and maybe even swoon over this modern Gothic novel." --Melissa Marr, New York Times bestselling author

"Breathtaking--a compulsive, rocketing read."--Tamora Pierce, New York Times bestselling author

"Captures the reader with true magic."--Esther Friesner, author of Nobody's Princess

"A laugh-out-loud delight." --Publishers Weekly
About the Author
---
SARAH REES BRENNAN was born and raised in Ireland by the sea. After college she lived briefly in New York and somehow survived in spite of her habit of hitching lifts in fire engines. Since then she has returned to Ireland to write and use as a home base for future adventures. Her Irish is still woeful, but she feels the books under the desk were worth it.
Praise For…
---
Cassandra Clare, New York Times bestselling author of The Mortal Instruments saga
"A sparkling, assured fantasy that will make you laugh and break your heart..." 

Melissa Marr, New York Times bestselling author
"Readers will laugh, shiver, and maybe even swoon over this modern Gothic novel."

Tamora Pierce, New York Times bestselling author
"Breathtaking, heartbreaking—a compulsive, rocketing read!"

Kelley Armstrong, New York Times bestselling author
"A darkly funny, deliciously thrilling Gothic. Unspoken kept me up late, turning the pages as fast as I could."
                                                                                                      
Esther Friesner, author of Nobody's Princess and the Chicks in Chainmail series
"With a heroine who kicks butt without ever being a 'Spunky Girl' cliché, Unspoken captures the reader with true magic: alluring, dangerous, fascinating, and breathtakingly real."

The Horn Book
"Witty, take-charge Kami reads a bit like a British Veronica Mars, and troubled Jared, uncovering his own dark legacy alongside her, is compelling. Brennan thoughtfully and thoroughly explores the implications of sharing a psychic connection; for Kami and Jared, it's by turns comforting, romantic, and agonizing. After this first installment-full of mystery, magic, and nods to both the girl detective genre and gothic romance-readers will be impatiently awaiting the next."

Publishers Weekly
"A promising launch with a dark cliff-hanger of an ending."

Kirkus Reviews
"An enjoyable tribute for established fans of the gothic, as well as an enticing introduction for new ones."