The Phantom Tollbooth (Hardcover)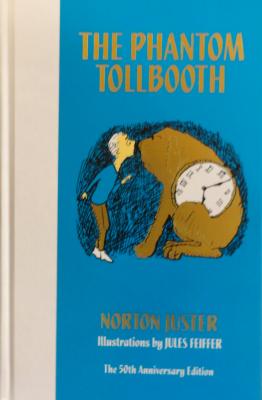 This Book Is Not Sold Online - In Store Special Order Only
Description
---
It has been fifty years and millions of readers since the world was first introduced to Milo and his adventures in the Lands Beyond with Tock, the Humbug, and the captive princesses Rhyme and Reason.
Now we have a remarkable 50th anniversary edition to honor this universally adored and deeply influential novel. This special edition will include:
Gorgeous packaging that features the classic original art stamped and debossed on the case with a transparent acetate jacket.
Brief essays from esteemed authors, educators, and artists, including Philip Pullman, Suzanne Collins, Jeanne Birdsall, Mo Willems, and several others.
Photos of the author and illustrator at the time of writing and today on the two-color endpapers.
The 35th anniversary essay by Maurice Sendak.
The complete text of the book.
A perfect gift for longstanding fans and lucky new readers, the 50th anniversary edition of The Phantom Tollbooth is a book to cherish.
About the Author
---
Norton Juster is a practicing architect and professor of environmental design at Hampshire College. He is the author of a number of books, including The Phantom Tollbooth, The Dot and the Line and Alberic the Wise. He lives with his wife in a small rural community in western Massachusetts.

Jules Feiffer is a cartoonist, playwright, screenwriter, children's book author and illustrator, and member of the American Academy of Arts and Letters. He teaches a humor-writing class at Stony Brook Southampton College and lives in East Hampton, New York.
Praise For…
---
Review, THE NEW YORKER, October 10, 2011:
"The fifty-year birthday of a good children's book marks a real passage, since it means that the book hasn't been passed just from parent to child but from parent to child and on to child again. A book that has crossed that three-generation barrier has a good chance at permanence . . . [this is] an anniversary that matters."

Review, THE ATLANTIC, October 30, 2011:
"The book is an absolute treasure to touch and to hold . . ."