His Dark Materials 3-Book Tr Box Set (Boxed Set)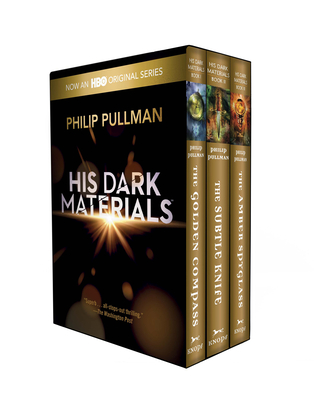 $35.97
Usually Ships in 1-5 Days
Description
---
"The Golden Compass," "The Subtle Knife," and"The Amber Spyglass" are available together in a collectible His Dark Materials boxed set perfect for any fan or newcomer to this modern fantasy classic series that has graced the"New York Times," "Wall Street Journal," "San Francisco Chronicle," "Book Sense," and "Publishers Weekly"bestseller lists.
These thrilling adventures tell the story of Lyra and Will two ordinary children on a perilous journey through shimmering haunted otherworlds. They will meet witches and armored bears, fallen angels and soul-eating specters. And in the end, the fate of both the living and the dead will rely on them.
Phillip Pullman's spellbinding His Dark Materials trilogy has captivated readers for over twenty years and won acclaim at every turn. It will have you questioning everything you know about your world and wondering what really lies just out of reach.
Honors and Praise for His Dark Materials:
An "Entertainment "Weekly All-Time Greatest Novel
A "Newsweek" Top 100 Book of All Time
"Arguably the best juvenile fantasy novel of the past twenty years." "The Washington Post "
"Very grand indeed." "The New York Times"
Pullman is quite possibly a genius. "Newsweek "
About the Author
---
PHILIP PULLMAN has won many distinguished prizes, including the Carnegie Medal for "The Golden Compass" (and the reader-voted "Carnegie of Carnegies" for the best children's book of the past seventy years); the Whitbread (now Costa) Award for "The Amber Spyglass"; a Booker Prize long-list nomination ("The Amber Spyglass"); Parents' Choice Gold Awards ("The Subtle Knife" and "The Amber Spyglass"); and the Astrid Lindgren Memorial Award, in honor of his body of work.

In 2004, he was appointed a Commander of the Order of the British Empire. Philip Pullman is the author of many books for young readers, including two volumes related to the His Dark Materials trilogy: "Lyra's Oxford" and "Once Upon a Time in the North." He lives in Oxford, England.