Harold: The Boy Who Became Mark Twain (Paperback)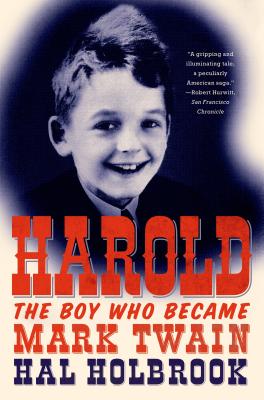 This Book Is Not Sold Online - In Store Special Order Only
Description
---
A beloved actor's memoir about what it takes to break into the business

In "Harold," the beloved stage, film, and television actor Hal Holbrook presents an affecting memoir about his struggle to discover his true self, even as he learned to transform himself onstage. Abandoned by his mother and father when he was two, Holbrook and his two sisters commenced separate journeys of survival. Raised by his powerful grandfather, who died when Holbrook was twelve, Holbrook spent his childhood at boarding schools, visiting his father in an insane asylum and hoping his mother would suddenly surface in Hollywood.
As World War II engulfed Europe, Holbrook began acting almost by accident. Through war, marriage, and the work of honing his craft, his fear of insanity and his fearlessness in the face of risk were channeled into discovering that the riskiest path of all success as an actor would be his birthright. The climb up that forbidding mountain was a lonely one. And how he achieved it the cost to his wife and children and to his own conscience is the dark side of the fame he would eventually earn by portraying the man his career would forever be most closely associated with: Mark Twain.
About the Author
---
Hal Holbrook is a celebrated actor who has starred in such films as "All the" "President's Men," "Wall Street," and "The Firm." He has won five prime-time Emmy Awards for his work in television and was nominated for an Academy Award in 2008 for his role in "Into the Wild." He lives in Beverly Hills, California.
Praise For…
---
"[Harold is] a gripping and illuminating tale, a peculiarly American saga of loneliness, sometimes misguided determination, luck, perseverance, marital failure and the life of a touring player in pre-interstate America." —San Francisco Chronicle
"Like Mark Twain, the alter ego he portrayed on the stage, actor Holbrook (All the President's Men, Into the Wild) has a knack for weaving delightful anecdotes with painful true stories . . . An insightful glimpse into Holbrook's personal and professional life, retold with amazing detail and written with intelligence and raw humor." —Richard A. Dickey, Library Journal
 "[Holbrook] tells his life story beautifully, moving smoothly from being a young boy abandoned by his parents . . . to enjoying a celebrated career on stage and screen. The reader is hooked right from the book's opening lines . . . Looking back with remarkable objectivity, Holbrook seems to be writing—with considerable sensitivity and insight—about another person entirely, someone who used to exist but has been overwritten by age and experience. This would be an unusual approach for any autobiography, and especially for a 'star bio,' but it works remarkably well here, perhaps because, in Holbrook's case, his professional career is an important part of his life but hardly the only thing worth talking about." —David Pitt, Booklist (starred review) "Renowned stage and screen actor Holbrook recounts his early life in this stirring memoir . . . While Holbrook's career stretches on for another half century, this encapsulation of his first 34 years is a movingly honest account of a life spent searching for meaning and purpose." —Publishers Weekly