The Third Reich (Hardcover)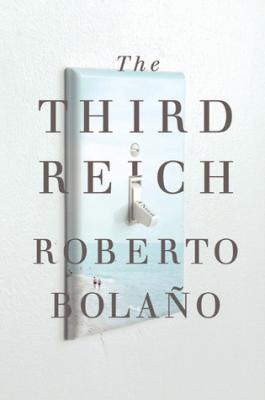 This Book Is Not Sold Online - In Store Special Order Only
Description
---
On vacation with his girlfriend, Ingeborg, the German war games champion Udo Berger returns to a small town on the Costa Brava where he spent the summers of his childhood. Soon they meet another vacationing German couple, Charly and Hanna, who introduce them to a band of locals the Wolf, the Lamb, and El Quemado and to the darker side of life in a resort town.
Late one night, Charly disappears without a trace, and Udo's well-ordered life is thrown into upheaval; while Ingeborg and Hanna return to their lives in Germany, he refuses to leave the hotel. Soon he and El Quemado are enmeshed in a round of Third Reich, Udo's favorite World War II strategy game, and Udo discovers that the game's consequences may be all too real.
Written in 1989 and found among Roberto Bolano's papers after his death, "The Third ""Reich "is a stunning exploration of memory and violence. Reading this quick, visceral novel, we see a world-class writer coming into his own and exploring for the first time the themes that would define his masterpieces "The Savage Detectives "and "2666.
About the Author
---
Author of 2666 and many other acclaimed works, Roberto Bolano (1953-2003) was born in Santiago, Chile, and later lived in Mexico, Paris, and Spain. He has been acclaimed by far the most exciting writer to come from south of the Rio Grande in a long time (Ilan Stavans, The Los Angeles Times), and as the real thing and the rarest (Susan Sontag). Among his many prizes are the extremely prestigious Herralde de Novela Award and the Premio Romulo Gallegos. He was widely considered to be the greatest Latin American writer of his generation. He wrote nine novels, two story collections, and five books of poetry, before dying in July 2003 at the age of 50.

Natasha Wimmer s translation of Roberto Bolano s 2666 won the National Book Award s Best Novel of the Year as well as the PEN Prize.
Praise For…
---
Praise for The Third Reich
"Novelists tend to be remembered for their most remarkable characters, and in Udo Berger, Bolaño has created someone complex, sometimes frustrating and absolutely unforgettable . . . Compassionate, disturbing and deeply felt, [The Third Reich is] as much of a gift as anything the late author has given us." —Michael Schaub, NPR
"Bolaño was a writer with tricks up his sleeve, and he distributed his wiles across many genres: novellas, poetry, short stories, essays and the epic 1,100-page 2666. So what's The Third Reich like? Capering, weird, rascally and short. Imagine a cross between Thomas Mann's Death in Venice, the CLUE board game and a wargames fanzine. It's a scathing novel with a lot of exuberance to it, not unlike the man who wrote it . . . The Third Reich is giddily funny, but it is also prickly and bizarre enough to count among Bolaño's first-rate efforts." —The Economist
Praise for Roberto Bolaño
"[Bolaño] makes you feel changed for having read him; he adjusts your angle of view on the world." —Ben Richards, The Guardian
"When I read Bolaño I think: Everything is possible again." —Nicole Krauss
"Not since Gabriel García Márquez . . . has a Latin American redrawn the map of world literature so emphatically as Roberto Bolaño does . . . It's no exaggeration to call him a genius." —Ilan Stavans, The Washington Post Book World
"[Bolaño's] work . . . is as vital, thrilling and life-enhancing as anything in modern fiction." —Christopher Goodwin, The Sunday Times (London)
"Novelists have been smashing high and low together for a century, but Bolaño does it with the force of a supercollider." —Daniel Zalewski, The New Yorker
"[Bolaño] has the natural storyteller's gift—but more important, he has the power to lend an extraordinary glamour to the activities of making love and making poetry." —Edmund White
"A successor to Borges, García Márquez, and Julio Cortázar." —Siddhartha Deb, Harper's Magazine
"The most influential and admired novelist of his generation." —Susan Sontag