"Who Could That Be at This Hour?" (Paperback)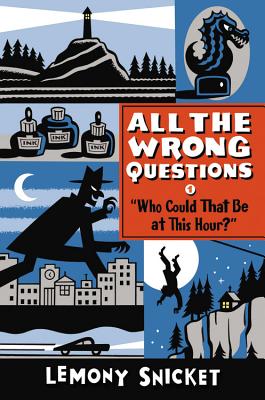 November 2012 Indie Next List
---
"Snicket's eccentric characters, gloomy settings, and twisted plots are back in full force. Thirteen-year-old Lemony is already suspicious, worried, and over his head in secrets. He is apprenticed to S. Theodora Markson (asking what the S stands for is a Wrong Question), who is taking him to Stain'd-by-the-Sea, a thoroughly strange place with lots of its own secrets. Markson and Snicket are there to do one thing: retrieve and return a statue of the rather frightening Bombinating Beast to its rightful owner. Nothing is as simple as it seems, especially when you can't trust anyone. Snicket knows much more than he's telling, and he weaves a complex mystery that ultimately brings up more questions than it answers."
— Marika McCoola, Odyssey Bookshop, South Hadley, MA
About the Author
---
LEMONY SNICKET's research has been collected and published in books, including those in A Series of Unfortunate Events. All the Wrong Questions is his first authorized autobiographical work.
SETH is a multi-award-winning cartoonist, author and artist living in Guelph, Canada.
WEB: http: //lemonysnicketlibrary.com
TWITTER: https: //twitter.com/lemonysnicket
FACEBOOK: facebook.com/daniel.handler
John Gallant lives today in Prince Edward Island, where the stories in this book take place. Seth was born in 1962 in a rural Ontario town. Seth lives in Guelph, Ontario with five cats, a gigantic collection of vintage records, comic books, and 20th century Canadiana, and his very patient wife. He regularly contributes illustrations to" The New Yorker "and" The National Post "and recently provided the entire album artwork for Sony records singer-songwriter, Aimee Mann.