PLEASE NOTE
Books must show: IN STOCK at your desired location for same day pick-up in stores. We recommend calling stores that show low stock numbers.
ISA Does It: Amazingly Easy, Wildly Delicious Vegan Recipes for Every Day of the Week (Hardcover)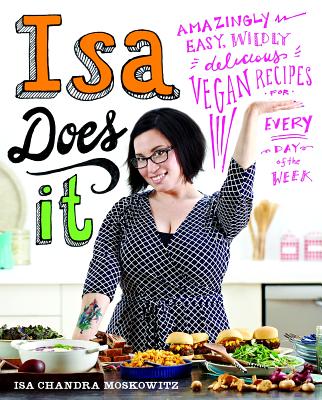 $30.00
In Stock - See Store Locations Below
Description
---
Recipes, tips, and strategies for easy, delicious vegan meals every day of the week, from America's bestselling vegan cookbook author.
How does Isa Chandra Moskowitz make flavorful and satisfying vegan meals from scratch every day, often in 30 minutes or less? It's easy! In ISA DOES IT, the beloved cookbook author shares 150 new recipes to make weeknight cooking a snap. Mouthwatering recipes like Sweet Potato Red Curry with Rice and Purple Kale, Bistro Beet Burgers, and Summer Seitan Saute with Cilantro and Lime illustrate how simple and satisfying meat-free food can be.
The recipes are supermarket friendly and respect how busy most readers are. From skilled vegan chefs, to those new to the vegan pantry, or just cooks looking for some fresh ideas, Isa's unfussy recipes and quirky commentary will make everyone's time in the kitchen fun and productive.
About the Author
---
Isa Chandra Moskowitz is an American cookbook author, magazine columnist, and former host of the community access cooking show Post Punk Kitchen. Her best-selling cookbooks include "Vegan with a Vengeance", "Vegan Cupcakes Take Over the World", "Veganomicon", "Vegan Brunch", "Vegan Cookies Invade Your Cookie Jar", and "Appetite for Reduction". She maintains the popular vegan website Post Punk Kitchen and lives in Omaha, Nebraska.
Praise For…
---
"Isa Moskowitz has a peerless capacity to conjure comfort from the unique, transmute simple to divine, and, most importantly-she makes her vegan cooking prowess approachable. Isa Does It, like her other work, will be a dog-eared staple in my kitchen for years to come."—Biz Stone, founder of Twitter

"Isa does it again! Delicious recipes that are explained in a way that a child could understand. Beautiful photos and mouthwatering, cruelty-free food! What more could you ask for?"—Emily Deschanel

"This focused solo effort should enchant mainstreamers and the vegan-curious alike...For those who consider veganism a creed of abstinence and austerity, these joyous, vivid recipes are a persuasive argument to the contrary."—T. Susan Chang, The Boston Globe

"Moskowitz has singlehandedly revolutionized vegan cooking"—San Francisco Book Review

"The grande dame of vegan cookbooks."—VegNews

"It's a hefty hardcover with beautiful photos and lots of hand-drawn illustrations, so it makes for a truly satisfying gift."—Bust

"Isa Chandra Moskowitz comes to the rescue with her latest cookbook Isa Does It. The book is filled with pantry-friendly, satisfying recipes for every day of the week-and, yes, they're vegan, too!"—The Kitchn

"Warning: Food cravings are about to kick in."—Women's Health

"Veteran chefs, budding vegans, and bacon fanatics can all appreciate Moskowitz's hilarious prose, simple instructions, and culinary creativity."—Portland Monthly

"ISA DOES IT is full of her quips, making the book not only an unintimidating introduction to vegan cooking but also a darn fun read."—Omaha Magazine

"Hands down, the best vegan cookbook of the year. Isa Chandra Moskowitz does it again with this collection of easy and delicious recipes designed for everyday cooking."—The Oregonian