Once Upon a Memory (Hardcover)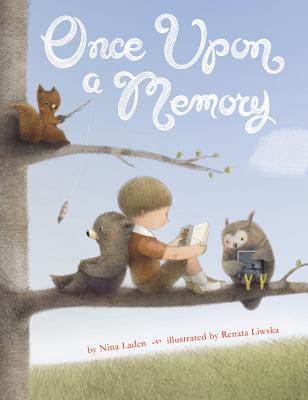 $17.00
Usually Ships in 1-5 Days
Staff Reviews
---
Normal
0
false
false
false
EN-US
X-NONE
X-NONE
MicrosoftInternetExplorer4
/* Style Definitions */
table.MsoNormalTable
{mso-style-name:"Table Normal";
mso-tstyle-rowband-size:0;
mso-tstyle-colband-size:0;
mso-style-noshow:yes;
mso-style-priority:99;
mso-style-qformat:yes;
mso-style-parent:"";
mso-padding-alt:0in 5.4pt 0in 5.4pt;
mso-para-margin:0in;
mso-para-margin-bottom:.0001pt;
mso-pagination:widow-orphan;
font-size:11.0pt;
font-family:"Calibri","sans-serif";
mso-ascii-font-family:Calibri;
mso-ascii-theme-font:minor-latin;
mso-fareast-font-family:"Times New Roman";
mso-fareast-theme-font:minor-fareast;
mso-hansi-font-family:Calibri;
mso-hansi-theme-font:minor-latin;
mso-bidi-font-family:"Times New Roman";
mso-bidi-theme-font:minor-bidi;}
I was drawn to this book the day it arrived because I am a
huge fan of Renata Liwska's (Quiet Book, Loud book) illustrations. The text of
this book weaves in nicely with the familiar characters and charming details of
the illustrations. This is definitely a picture book that I recommend to adults
as well as their children. It's also one that works well with older kids
despite the simplicity of the words themselves, the concepts mentioned in the
text, of memory and transformation, can lead to wonderful conversations. As
with all of Liwska's illustrations, you will notice new and poignant details
every time you read the book. A great book to linger over.
— Chantal of Books Inc. Mountain View
Description
---
"Does a feather remember it once was a bird?"
"Does a book remember it once was a word?"
When a feather drifts through a child's window, a magical journey begins. As the boy follows the feather, he is swept away to a world filled with adorable animals, where fantasy and reality come together in surprising and playful ways. From the cake that once was grain to the ocean that once was rain, whimsical "before" and "after" scenes offer readers a peek at the world as seen through the eyes of a curious child, ultimately asking the question, "What will you remember?"
Nina Laden's poetic and cleverly woven text is perfectly paired with bestselling artist Renata Liwska's captivating illustrations. Together they create a story that will keep readers enchanted long after the journey has ended.

About the Author
---




Renata Liwska lives and works in Calgary, Canada, with her illustrator husband, Mike. Her childhood memories are of growing up in Warsaw, Poland.
Praise For…
---
Praise for Once Upon a Memory:A Bank Street College Children's Book Committee Best Book of 2014 Selection
* "A rhythmic poem explores origins, both physical and abstract...Animal characters are tender and genuine. These musings on memory and change are thought-provoking, yet the piece also works as a lullaby. Reflective and peaceful."
—Kirkus Reviews (starred review)

"[A] gentle, dreamy picture book...A lyrical series of questions that play with the concept of memory and origins...[are] grounded by Liwska's pencil and mixed-media drawings."—School Library Journal