Ask the Passengers (Paperback)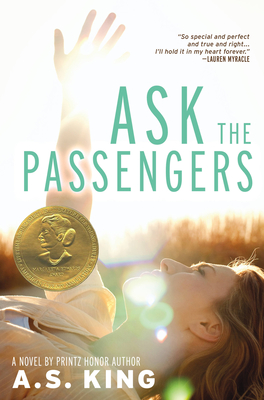 Staff Reviews
---
This novel snuck under the wire to get
into my top three young adult novels
for 2012. I read it in one breathless night, and the next morning, when I
saw
an airplane flying overhead, I burst into tears. Which, I admit,
probably seems like a crazy response, and fairly so. But like all the
best, most special books, Ask The Passengers doesn't just satisfy the
mind while it's being read-- it also colors life long after it has been
put down, making otherwise banal things, like the sight of airplanes
overhead, illuminated.
King uses complicated ideas,
recurring imagery and deceptively simple language to craft a story of
incredible honesty and pathos. Those who were unlucky to be around me
in the days after I read it were
subjected to my many gushings-and even with the amount of hyperbolic
gushery
I put forth in those days, I'm not sure I did this novel justice.
Gorgeous.
Wise. Vibrant. For those who love any of the following authors: David
Levithan, Nina LaCour, Sarah Dessen or John Green should certainly take a
look. I cannot wait to pick up more of A. S. King's work. Because if
it's even a FRACTION as good... I may have a new favorite author. For ages 15+
— Maggie, Children's Department Director
July 2012 Indie Next List
---
"This touching, challenging story about a small-town girl struggling to be honest with herself while she has to keep secrets from everyone around her is as finely wrought as any of King's previous award-winning novels."
— Todd A. Dickinson, Aaron's Books, Lititz, PA
Description
---
In this truly original portrayal of a girl struggling to break free of society's definitions, Printz Honor author A.S. King asks readers to question "everything"--and offers hope to those who will never stop seeking real love.
Astrid Jones desperately wants to confide in someone, but her mother's pushiness and her father's lack of interest tell her they're the last people she can trust. Instead, Astrid spends hours lying on the backyard picnic table watching airplanes fly overhead. She doesn't know the passengers inside, but they're the only people who won't judge her when she asks them her most personal questions...like what it means that she's falling in love with a girl.
As her secret relationship becomes more intense and her friends demand answers, Astrid has nowhere left to turn. She can't share the truth with anyone except the people she imagines flying over her at thirty thousand feet, and they don't even know she's there. But little does Astrid know just how much even the tiniest connection will affect these strangers' lives--and her own--for the better.
About the Author
---
A.S. King has been profiled in Writer's Digest magazine and is a member of the Assembly on Literature for Adolescents (ALAN) and the Society of Children's Book Writers and Illustrators (SCBWI).
She was a finalist for the Washington Square fiction contest and Glimmer Train Very Short Fiction Award in 2007, and her writing has been nominated for the 2008 storySouth Million Writers Award and the Best New American Voices 2010 anthology. A citizen of both Ireland and the U.S., King's short fiction, poetry and nonfiction have been featured in the Sunday Times Magazine (Dublin edition), the Sunday Tribune Magazine, and iVillage, as well as in several literary journals including Quality Women's Fiction, Underground Voices, and Contrary.
She now lives in Pennsylvania with her husband and children. The Dust of 100 Dogs is her debut novel.
Visit King online at www.as-king.com or www.thedustof100dogs.com for more information.
Praise For…
---
A 2012 Publishers Weekly Best YA BookA 2012 School Library Journal Best BookA 2012 Kirkus Reviews Best YA BookA 2012 Library Journal Best YA for Adults BookA 2012 BookPage Best Children's BookA 2012 Los Angeles Times Book Prize for Young Adult Literature WinnerA 2012 Los Angeles Public Library Best Teen BookA 2012 Lambda Literary Award FinalistA 2013 YALSA Best Fiction for Young Adults BookA 2013 Carolyn W. Field Award WinnerA 2013 Rainbow List Top Ten BookA 2013 Capitol Choices Noteworthy Titles for Children and Teens BookA 2013 Cooperative Children's Book Center Choices BookA 2013 James Cook Teen Book Award WinnerA 2014 Tennessee Volunteer Book Award NomineeA 2014 Texas Tayshas Reading List Top Ten BookA Junior Library Guild Selection

* "Quite possibly the best teen novel featuring a girl questioning her sexuality written in years."
-Kirkus Reviews, starred review

* "At once much more than a coming out novel and one of the best coming-out novels in years.... Funny, provocative, and intelligent, King's story celebrates love in all its messy, modern complexity."
-Publishers Weekly, starred review

* "Another thoughtful, and often breathtaking, achievement for King, whose star is ascending as quickly as one of Astrid's planes."
-Booklist, starred review

* "King's thoughtful, sad, funny, and frank book...will appeal to any mature teen resisting the pressure to conform or rebel [and] anyone who wants to define herself on her own terms."
-School Library Journal, starred review

* "For kids struggling with their own truths, it can be hard to believe how much light there is once you come out of the cave. This is a book that knows and understands that, and it's one that readers will believe."
-The Bulletin, starred review

* "A furiously smart and funny coming-out-and-of-age novel."
-The Horn Book, starred review

"Astrid is a model of strength and compassion.... Good reading for everyone."
-VOYA

"King has penned a work of realism that is magical in the telling."
-Cooperative Children's Book Center