Feed (Mass Market Paperbound)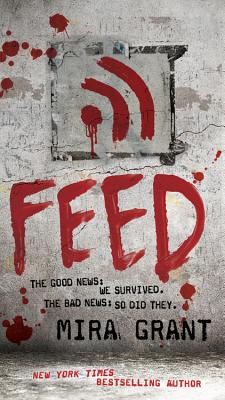 Description
---
The year was 2014. We had cured cancer. We had beat the common cold. But in doing so we created something new, something terrible that no one could stop. The infection spread, virus blocks taking over bodies and minds with one, unstoppable command: FEED.
Now, twenty years after the Rising, Georgia and Shaun Mason are on the trail of the biggest story of their lives-the dark conspiracy behind the infected. The truth will out, even if it kills them.
FEED is the electrifying and critically acclaimed novel of a world a half-step from our own---a novel of geeks, zombies, politics and social media.

Newsflesh "Feed""Deadline""Blackout"
For more from Mira Grant, check out:
Parasitology"Parasite""Symbiont ""Chimera""
"Newsflesh Short Fiction"Apocalypse Scenario #683: The Box""Countdown""San Diego 2014: The Last Stand of the California Browncoats""How Green This Land, How Blue This Sea""The Day the Dead Came to Show and Tell""Please Do Not Taunt the Octopus
About the Author
---
Mira Grant is the pseudonym of Seanan McGuire, winner of a 2010 John W. Campbell Award for Best New Writer. She is the author of Deadline, Blackout, Feed, and Countdown, all part of the Newsflesh series. She lives in California.