Eating Animals (Paperback)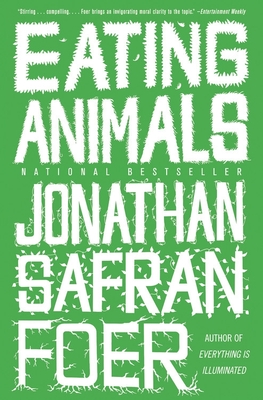 December 2009 Indie Next List
---
"Jonathan Safran Foer makes the case for boycotting industrial agriculture with firsthand accounts and voices from every side of the debate. It changed the way I think about food -- but made me enjoy it even more."
— Zak Powers, Oblong Books & Music, Rhinebeck, NY
Description
---
Like many young Americans, Jonathan Safran Foer spent much of his teenage and college years oscillating between enthusiastic carnivore and occasional vegetarian. As he became a husband, and then a father, the moral dimensions of eating became increasingly important to him. Faced with the prospect of being unable to explain why we eat some animals and not others, Foer set out to explore the origins of many eating traditions and the fictions involved with creating them.

Traveling to the darkest corners of our dining habits, Foer raises the unspoken question behind every fish we eat, every chicken we fry, and every burger we grill. Part memoir and part investigative report, Eating Animals is a book that, in the words of the Los Angeles Times, places Jonathan Safran Foer "at the table with our greatest philosophers."
About the Author
---
JONATHAN SAFRAN FOER is the author of the novels Everything is Illuminated and Extremely Loud and Incredibly Close, and a work of nonfiction, Eating Animals. His books have won numerous awards and have been translated into 36 languages. He lives in Brooklyn, New York.
Praise For…
---
"Stirring...compelling....Foer brings an invigorating moral clarity to the topic."
-Entertainment Weekly

"Eating Animals isn't just an anti-meat screed, or an impassioned case for vegetarianism. Instead, Foer tells a story that is part memoir and part investigative report....It's a book that takes America's meat-dominated diet to task."
-NPR, All Things Considered

"Foer's aim is not to make your choice, but to inform it. He has done us all a great service, and we, and the animals, owe him our thanks."

"Foer's case for ethical vegetarianism is wholly compelling....Eating Animals is a blend of solid-and discomforting-reportage with fierce advocacy that will make committed carnivores squeal."
-Kirkus Reviews

"A work of moral philosophy....The fact that Foer makes me wonder whether I'm being, at best, a hypocrite every time I eat a piece of beef suggests he's completely successful in at least one ambition."
-San Francisco Chronicle

"Extraordinarily thoughtful and intelligent."
-St. Louis Post-Dispatch

"Eating Animals stands as a pop-cultural landmark, destined to be the starting point for a lot of overdue conversations."
-Philadelphia Daily News

"For a hot young writer to train his sights on a subject as unpalatable as meat production and consumption takes raw nerve. What makes Eating Animals so unusual is vegetarian Foer's empathy for human meat eaters, his willingness to let both factory farmers and food reform activists speak for themselves, and his talent for using humor to sweeten a sour argument."
-O, The Oprah Magazine