Mr. Popper's Penguins (Hardcover)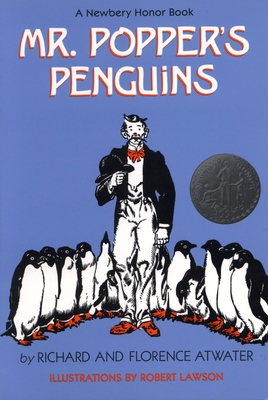 $19.00
Usually Ships in 1-5 Days
Description
---
Mr. Popper's Penguins is one of the handful of American books for children that has attained the status of a classic. First published in 1938, this story of a housepainter who is sent a male penguin by the great Admiral Drake, and who, thanks to the arrival of a female penguin, soon has twelve penguins living in his house, has amused and enchanted generations of children and their parents.
About the Author
---
Richard Tupper Atwater (1892-1948) lived in Chicago and worked as a journalist, often writing humorous pieces for newspapers such as the "Chicago Tribune". He wrote two books for children before beginning "Mr. Popper's Penguins", a 1939 Newbery Honor Book. Before he could finish the story, however, he became ill. His wife, Florence Hasseltine Atwater (1899-1979) finished the book, helping launch a story that has remained popular for generations.




Robert Lawson (1892-1957) received his art training at the New York School of Fine and Applied Arts. His favorite medium, pen and ink, is used expressively and with detail in his black and white illustrations inThe Story of Ferdinand (by Munro Leaf). In addition to illustrating many children's books, includingMr. Popper's Penguins, Robert Lawson also wrote and illustrated a number of his own books for children. In 1940, he was awarded the Caldecott Medal for his picture book illustrations inThey Were Strong and Goodand in 1944, he was awarded the Newbery Medal for his middle grade novelRabbit Hill.