Home of the Brave (Paperback)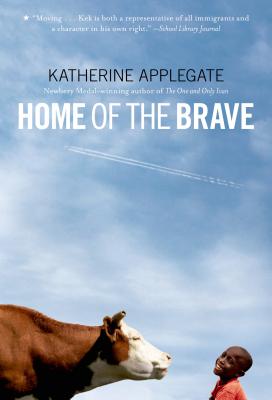 Staff Reviews
---
Katherine Applegate (Newbery winner for The One and Only
Ivan) assumed the voice and thoughts of a lonely, wise, and heartbreakingly
unforgettable gorilla in The One and Only Ivan. In Home of the Brave,
she brings us into the mind, memory, and language of Kek, a young refugee boy
from an African village, who has just set foot in Minnesota. We have the
occasion to experience details, curiosities, and language of our own country,
as deconstructed through the eyes of Kek. The book is written in verse;
Applegate's writing is thoughtful, subtle, and often humorous.
 
The reader has an intimate view of the world as Kek sees it,
and navigates with him through this new environment, and the unfamiliar,
meaningless words that he must use to describe it. It is an experience to read
and a heartbreaking and endearing voice that remains with you long after. It is
similar to The One and Only Ivan in this respect, and also recalls
another one of my favorites, Mockingbird, by Kathryn Erskine, in its
ability to draw the reader into the perspective of an outsider.
An easy read, yet worthy of attention from older readers as
well. Ages 8+
--reviewed by Chantal, Books Inc. Mountain View
— Chantal of Books Inc. Mountain View
Description
---
"A man I helped to settle here"
"taught me a saying from Africa."
"I'll bet you would like it: "
"A cow is God with a wet nose."
Kek comes from Africa where he lived with his mother, father, and brother. But only he and his mother have survived. Now she's missing, and Kek has been sent to a new home. In America, he sees snow for the first time, and feels its sting. He wonders if the people in this new place will be like the winter cold and unkind. But slowly he makes friends: a girl in foster care, an old woman with a rundown farm, and a sweet, sad cow that reminds Kek of home. As he waits for word of his mother's fate, Kek weathers the tough Minnesota winter by finding warmth in his new friendships, strength in his memories, and belief in his new country.
About the Author
---
Katherine Applegate's many books include the Roscoe Riley Rules chapter book series, the picture book The Buffalo Storm, and the award-winning novel Home of the Brave. With her husband, Michael Grant, she wrote the hugely popular series Animorphs, which has sold more than 35 million copies worldwide.
Katherine was inspired to write The One and Only Ivan after reading about the true story of a captive gorilla known as Ivan, the Shopping Mall Gorilla. The real Ivan lived alone in a tiny cage for twenty-seven years at a shopping mall before being moved to Zoo Atlanta after a public outcry. He was a beloved celebrity at the zoo, which houses the nation's largest collection of western lowland gorillas. Ivan was well known for his paintings, which he "signed" with a thumbprint.
Katherine lives in California with her husband and two children.
Praise For…
---
"Beautiful. Thank you for publishing this book. Thank Katherine Applegate for writing it."—Karen Hesse "Moving . . . Kek is both a representative of all immigrants and a character in his own right."—School Library Journal, Starred Review
"Precise, highly accessible language evokes a wide range of emotions and simultaneously tells an initiation story. A memorable inside view of an outsider."—Publishers Weekly
"This beautiful story of hope and resilience . . . is an almost lyrical story."—Voice of Youth Advocates
"The boy's first-person narrative is immediately accessible. Like Hanna Jansen's Over a Thousand Hills I Walk With You, the focus on one child gets behind those news images of streaming refugees far away."—Booklist
"The evocative spareness of the verse narrative will appeal to poetry lovers as well as reluctant readers and ESL students."—The Bulletin of the Center for Children's Books
". . . beautifully written in free verse . . . a thought-provoking book about a topic sure to evoke the empathy of readers."—KLIATT