The Haunting of Charles Dickens (Hardcover)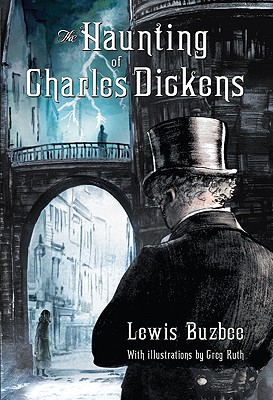 This Book Is Not Sold Online - In Store Special Order Only
Description
---
Meg Pickel's older brother, Orion, has disappeared. One night, she steals out to look for him, and makes two surprising discoveries: She stumbles upon a seance that she suspects involves Orion, and she meets the author Charles Dickens, also unable to sleep, and roaming the London streets. He is a customer of Meg's father, who owns a print shop, and a family friend. Mr. Dickens fears that the children of London aren't safe, and is trying to solve the mystery of so many disappearances. If he can, then perhaps he'll be able to write once again.
With stunning black-and-white illustrations by Greg Ruth, here is a literary mystery that celebrates the power of books, and brings to life one of the world's best-loved authors.
About the Author
---
Lewis Buzbee is a former bookseller and sales rep (for Chronicle Books), and the author of the acclaimed adult memoir, "The Yellow-Lighted Bookshop", published by Graywolf Press in June 2006. A native Californian, he lives in San Francisco with his wife and daughter. He is the author of the children's books "Steinbeck's Ghost", "The Haunting of Charles Dickens", and "Bridge of Time".

Greg Ruth (Illustrator) has created countless comic books for Dark Horse and other publishers, and has worked on videos for Prince and Rob Thomas, among others. He has also illustrated many children s books as well as graphic novels. He lives with his family in Massachusetts.
Praise For…
---
Praise for The Haunting of Charles Dickens: "Ruth's delightful black-and-white drawings add atmosphere and interest. If historical mystery fans are not quite up for Philip Pullman's Ruby in the Smoke (Knopf, 1987) or Eleanor Updale's Montmorency (Scholastic, 2004), this book could be a good way to work up to them." --School Library Journal
 "…deliciously elaborate… The sights, sounds and stenches of 19th-century London are palpable even without the moody black-and-white illustrations." --Kirkus Reviews "A rollicking good historical mystery, written in Dickens'style and illustrated with appealing line drawings, which include a subtle tip of the hat to a more contemporary London that a few YA readers may catch." --Booklist "A charming and gripping tale...Buzbee creates solid characters (and certainly has fun naming them, as did Dickens) and an authentic flavor of Dickensian London, enhanced by Ruth's striking and evocative b&w drawings…while addressing issues of feminism, the search for identity, and child abuse." --Publishers Weekly "[A] seriously good book...Buzbee draws a realistic vivid picture of 19th century London and manages to capture the "feel" of a Dickens book...The importance of the written word, the printed word, and the authors behind them shines through in this novel." --Goddess Librarian (goddesslibrarian.blogspot.com)
Praise for Steinbeck's Ghost: A Smithsonian Notable Book for Children
Northern California Book Award Nominee
Northern California Independent Booksellers' Association Children's Book of the Year
Winner, California Library Association's John and Patricia Beatty Award "The themes of valuing friendship, managing adults who have lost their priorities, and connecting people through stories will appeal to kids who have found their own magic in the library."--The Bulletin of the Center for Children's Books "The story remains an intriguing introduction/companion to Steinbeck's works and imaginatively conveys the power of literature to transport people to another time and place."--Publishers Weekly "Buzbee's love for literature and libraries is infectious and, for those similarly inclined, deeply satisfying."--Booklist "Magical realism with Steinbeck's ghost and a discerning young hero."--Kirkus Reviews