Liberation Movements (Paperback)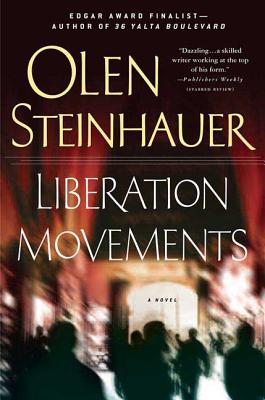 Description
---
Olen Steinhauer's acclaimed crime series set in Eastern Europe has taken readers from the first shots of the revolution and through the chaos of the 1960s. Now, it is 1975, and one of the People's Militia investigators is bound for Istanbul when his plane is hijacked by Armenian terrorists and explodes in midair.

Gavra Noukas, a secret policeman, and Katja Drdova, a homicide detective, are assigned to the case. Both believe that Brano Sev, their enigmatic superior and career secret policeman, is hiding the true motives of their investigation, but they can't figure out why until they learn that everything is connected to a seven-year-old murder with far-reaching consequences.
The compelling politics and history for which Olen Steinhauer's novels have been praised turn intimate in this ambitious novel.
About the Author
---
OLEN STEINHAUER, the "New York Times" bestselling author of nine previous novels, is a Dashiell Hammett Award winner, a two-time Edgar award finalist, and has also been shortlisted for the Anthony, the Macavity, the Ellis Peters Historical Dagger, the Ian Fleming Steel Dagger, and the Barry awards. Raised in Virginia, he lives in New York and Budapest, Hungary.
Praise For…
---
Praise for Liberation Movements  "It is an exhilarating and enjoyable ride."
---Los Angeles Times  "An inspired choice---giving history and politics a chance to simmer over the flame of murder."
---Chicago Tribune
 
"Dazzling . . . a skilled writer working at the top of his form."
---Publishers Weekly (starred review)
 
"Steinhauer again displays his masterful manipulation of character, plot, and reader expectations. . . . A fast, intriguing read."
 ---Library Journal (starred review)
"Cool and cerebral crime thriller."
---Kirkus Reviews
 
Praise for 36 Yalta Boulevard
 
"Steinhauer's people are real, the crimes genuine, and he is telling larger truths about that era." 
---David Halberstam