His Dark Materials: The Golden Compass, the Subtle Knife, the Amber Spyglass (Hardcover)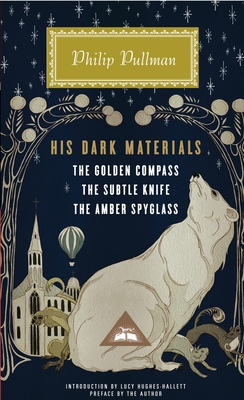 Description
---
The only hardcover omnibus of the best-selling and award-winning fantasy trilogy, in a Contemporary Classics edition.
Philip Pullman's trilogy is a masterpiece that transcends genre and appeals to readers of all ages. His heroine, Lyra, is an orphan living in a parallel universe in which science, theology, and magic are entwined. The epic story that takes us through the three novels is not only a spellbinding adventure featuring armored polar bears, magical devices, witches, and daemons, it is also an audacious and profound reimagining of Milton's "Paradise Lost "that has already inspired a number of serious books of literary criticism. Like J. R. R. Tolkien and C. S. Lewis before him, Pullman has invented a richly detailed and marvelously imagined world, complex and thought-provoking enough to enthrall adults as well as younger readers. An utterly entrancing blend of metaphysical speculation and bravura storytelling, "His Dark Materials "is a monumental and enduring achievement.
About the Author
---
Philip Pullman was born in Norwich, England, in 1946. He has won many awards, including the Carnegie Medal and the Whitbread Book of the Year Award. His acclaimed trilogy, His Dark Materials, has been published in thirty-nine languages. . The Amber Spyglass, the trilogy s astonishing finale, was the first children s book in history to win the Whitbread Book of the Year Award. It was also nominated for the Booker Prize. When he is not writing books, Pullman enjoys drawing, woodworking, and playing the piano. He lives with his family in Oxford, England.