Norwegian Wood (Paperback)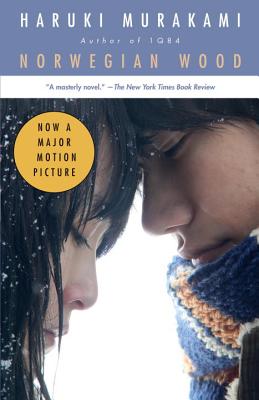 $15.00
Usually Ships in 1-5 Days
Description
---
A special movie-tie in edition for the long-awaited film release based on this beloved novel by Haruki Murakami: the story of one college student's romantic coming-of-age, a journey to that distant place of a young man's first, hopeless, and heroic love.
Toru, a quiet and preternaturally serious young college student in Tokyo, is devoted to Naoko, a beautiful and introspective young woman, but their mutual passion is marked by the tragic death of their best friend years before. Toru begins to adapt to campus life and the loneliness and isolation he faces there, but Naoko finds the pressures and responsibilities of life unbearable. As she retreats further into her own world, Toru finds himself reaching out to others and drawn to a fiercely independent and sexually liberated young woman.
About the Author
---
Haruki Murakami is a prolific writer of novels and short stories, including Hard-Boiled Wonderland and the End of the World, which won the prestigious Tanizaki Prize.

JAY RUBIN is a professor of Japanese literature at Harvard University, where he has employed the pedagogical techniques contained in Making Sense of Japanese "as infrequently as possible." He has authored Injurious to Public Morals: Writers and the Meiji State and Haruki Murakami and the Music of
Words, edited Modern Japanese Writers, and translated Soseki Natsume's Sanshiro and The Miner and Haruki Murakami's The Wind-Up Bird Chronicle, Norwegian Wood, and After the Quake (Knopf and Harvill, 2002).

Praise For…
---
"A masterly novel. . . . Norwegian Wood bears the unmistakable marks of Murakami's hand."
—The New York Times Book Review

"Norwegian Wood not only points to but manifests the author's genius."
—Chicago Tribune

"A treat. . . . Murakami captures the heartbeat of his generation and draws the reader in so completely you mourn when the story is done."
—The Baltimore Sun

"Vintage Murakami [and] easily the most erotic of [his] novels."
—Los Angeles Times Book Review