A Wrinkle in Time (Compact Disc)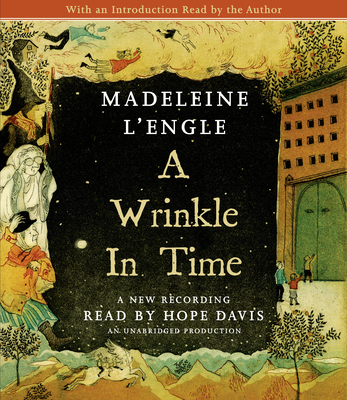 Description
---
This special edition of A Wrinkle in Time includes a new essay that explores the science behind the fantasy.Rediscover one of the most beloved children's books of all time: A Wrinkle in Time by Madeleine L'Engle:Meg Murray, her little brother Charles Wallace, and their mother are having a midnight snack on a dark and stormy night when an unearthly stranger appears at their door. He claims to have been blown off course, and goes on to tell them that there is such a thing as a "tesseract," which, if you didn't know, is a wrinkle in time. Meg's father had been experimenting with time-travel when he suddenly disappeared. Will Meg, Charles Wallace, and their friend Calvin outwit the forces of evil as they search through space for their father?
About the Author
---
Madeleine L'Engle (1918-2007) was the Newbery Medal-winning author of more than 60 books, including the much-loved "A Wrinkle in Time". Born in 1918, L'Engle grew up in New York City, Switzerland, South Carolina and Massachusetts. Her father was a reporter and her mother had studied to be a pianist, and their house was always full of musicians and theater people. L'Engle graduated cum laude from Smith College, then returned to New York to work in the theater. While touring with a play, she wrote her first book, "The Small Rain", originally published in 1945. She met her future husband, Hugh Franklin, when they both appeared in "The Cherry Orchard". Upon becoming Mrs. Franklin, L'Engle gave up the stage in favor of the typewriter. In the years her three children were growing up, she wrote four more novels. Hugh Franklin temporarily retired from the theater, and the family moved to western Connecticut and for ten years ran a general store. Her book "Meet the Austins", an American Library Association Notable Children's Book of 1960, was based on this experience. Her science fantasy classic "A Wrinkle in Time" was awarded the 1963 Newbery Medal. Two companion novels, "A Wind in the Door" and "A Swiftly Tilting Planet" (a Newbery Honor book), complete what has come to be known as The Time Trilogy, a series that continues to grow in popularity with a new generation of readers. Her 1980 book "A Ring of Endless Light" won the Newbery Honor. L'Engle passed away in 2007 in Litchfield, Connecticut.

Hope Davis' films include The Weather Man, Proof, Dumas, American Splendor (Golden Globe Nomination), The Secret Lives of Dentists (2003 Best Actress, New York Film Critics), About Schmidt, Hearts of Atlantis, Mumford, Arlington Road, Next Stop Wonderland, and Daytrippers. Her stage credits include A Midsummer Night's Dream, Spinning Into Butter, Ivanov, and Two Shakespearean Actors.
Praise For…
---
1998 marks is the 35th anniversary of A Wrinkle in Time by Madeleine L'Engle. To celebrate, Bantam Doubleday Dell is publishing two wonderful new editions of L'Engle's Time Quartet, including A Wrinkle in Time; A Wind in The Door; A Swiftly Tilting Planet; and Many Waters.

In both the new digest and the mass market editions, each title includes a new introduction by the author. Covers of the digest editions are illustrated by Caldecott Honor illustrator Peter SÝs, and the mass market edition covers are illustrated by renowned science fiction and fantasy illustrator Cliff Nielsen.


From the Paperback edition.