The Emerald Atlas (Compact Disc)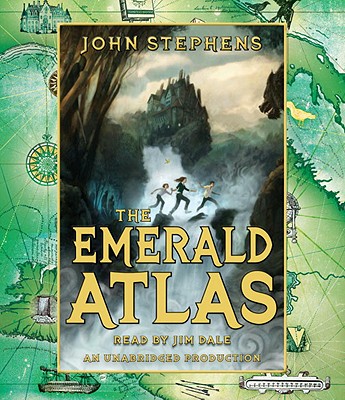 $35.00
Usually Ships in 1-5 Days
June 2011 Indie Next List
---
"This is a Tolkien for 10-year-olds, chock-full of giants and dwarves, heroes and villains, and all of the wizarding magic we've grown to love. When three siblings discover a book with magical properties, all the hardships of their orphaned past are overshadowed by the trials that lie ahead. Each sibling uses his or her unique strengths to overcome great obstacles, including time itself, and finds the courage to save the lives of others. Read it aloud, and the whole family will enjoy this fresh adventure that pays homage to the fantasy greats that came before."
— Angela K Sherrill, 57th Street Books, Chicago, IL
Description
---
Called "A new Narnia for the tween set" by the New York Times and perfect for fans of the His Dark Materials series, The Emerald Atlas brims with humor and action as it charts Kate, Michael, and Emma's extraordinary adventures through an unforgettable, enchanted world.
 
These three siblings have been in one orphanage after another for the last ten years, passed along like lost baggage.
 
Yet these unwanted children are more remarkable than they could possibly imagine. Ripped from their parents as babies, they are being protected from a horrible evil of devastating power, an evil they know nothing about.
 
Until now.
 
Before long, Kate, Michael, and Emma are on a journey through time to dangerous and secret corners of the world...a journey of allies and enemies, of magic and mayhem.  And—if an ancient prophesy is correct—what they do can change history, and it is up to them to set things right.
About the Author
---


As "Best Children's Narrator," Jim Dale has won a record seven Audie Awards, including "Audio Book of the Year 2004," a Grammy(r) Award and four Grammy(r) nominations. As an actor he has won a Tony(r) Award, five Tony(r) nominations, four Drama Desk Awards, and four Outer Critics Awards. As a lyric writer, he received an Oscar(r) nomination for writing the song "Georgy Girl."
Praise For…
---
"Rich with wonder and personality, The Emerald Atlas is a terrific read. I wholeheartedly recommend it, and look forward to more." -- Brandon Mull, #1 New York Times bestselling author of Fablehaven and Beyonders

Starred Review, School Library Journal, June 2011:
"Unfolding magic and secrets deepen the story and build excitement as it reaches its complex and time-bending climax....Echoes of other popular fantasy series, from "Harry Potter" to the "Narnia" books, are easily found, but debut author Stephens has created a new and appealing read that will leave readers looking forward to the next volumes in this projected trilogy."

Publishers Weekly, January 18, 2011:
"This fast-paced, fully imagined fantasy is by turns frightening and funny, and the siblings are well-crafted and empathetic heroes. Highly enjoyable, it should find many readers."

The Wall Street Journal, April 2, 2011:
"[A] great story is all in the telling, and in 'The Emerald Atlas' the telling is superb...First-time novelist John Stephens has created a vicarious adventure for children ages 9-15—the first in a trilogy—filled with unexpected twists and marvelously distinct and vivid characters."

BookPage, April 2, 2011:
"With magic, humor and unforgettable characters, John Stephens' remarkable debut novel follows Kate, Michael and Emma as they attempt to outwit the Countess, rescue the children and maybe even save the world in the process. Unanswered questions and two more books to locate ensure a sequel and more robust adventures ahead."

Realms of Fantasy, April 2011:
"Ambitious, entertaining, magical, and whimsical, this marks a strong beginning to a new trilogy, invoking just a little Harry Potter and Series of Unfortunate Events along the way."

Booklist, March 15, 2011:
"Fast-paced and engaging, with plenty of action, humor, and secrets propelling the plot. . . . Themes of family and responsibility . . . will easily resonate with young readers."
 
Kirkus, March 15, 2011:
"Each character has such a likable voice that the elaborate story doesn't feel overcomplicated. . . . The only gripe readers might initially have is with its length, but by the end, they'll immediately wish it was longer."

Library Media Connection, May / June 2011:
"A rollicking fantasy filled with shiver-inspiring evil creatures and quiet heroes. The feisty sisters and the intellectual brother will win the hearts of readers of all ages."

CrackingTheCover.com, April 5, 2011:
""Creativity and wit abound in 'The Emerald Atlas.' Author John Stephens could have easily fallen into the trap of building on someone else's ideas. But he doesn't.
Stephens doesn't write down to his readers. Rather he offers a sophisticated narrative that will appeal to children and adults alike. It's clear he had fun writing and that 'The Emerald Atlas' was painstakingly thought out."