PLEASE NOTE
Books must show: IN STOCK at your desired location for same day pick-up in stores. We recommend calling stores that show low stock numbers.
Second Sight: An Intuitive Psychiatrist Tells Her Extraordinary Story and Shows You How to Tap Your Own Inner Wisdom (Paperback)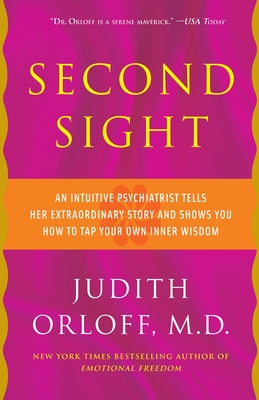 $15.00
Usually Ships in 1-5 Days
Description
---
"An exemplary and eloquently written story that makes it easy for nonbelievers in intuition to believe. You must read this book." – Psychology Today

Now with a new foreword from the author, New York Times bestselling author Dr. Judith Orloff tells her remarkable life story and teaches you how to recognize and trust your own intuitive gifts to improve your life—and the lives of those around you.
 
In this updated edition, Dr. Orloff reflects on her career and the sea change that modern medicine and psychiatry have experienced since Second Sight was first published.  She expands her earlier ideas and further explores intuition's role in maintaining physical health and emotional well-being, using examples from her own and her patients' lives. This is both a remarkable self-portrait of one woman's journey toward the acceptance of intuition as a therapeutic tool, and a comprehensive look at how you, too, can develop your intuition, transform your health, and revolutionize your everyday life.  
 
"Orloff is a true visionary. She is the kind of physician we wish we all had." – Caroline Myss, Ph.D., author of Sacred Contracts
 
"Second Sight is a page turner...controversial. It shares the struggles and successes of a courageous physician who fights against a skeptical medical system to validate the power of intuition. You will find a new friend in Judith as her writing is as intimate as if she was talking to you in her living room." —Joan Borysenko, Ph.D., author of Mending the Mind, Minding the Spirit

 "Judith Orloff is a seriously talented storyteller, and her book moves like a thriller...Forgive me this moment of intuition, but this book feels right." –Jesse Kornbluth, Huffington Post 
About the Author
---
JUDITH ORLOFF is a leading voice in the fields of medicine, psychiatry, and psychic development. She is an assistant clinical professor of psychiatry at UCLA and serves on the clinical staff of Cedars-Sinai Hospital. For 13 years, Dr. Orloff has maintained a private practice, integrating her psychic abilities and medical training. As a consultant to the Mobius Group, she has assisted law enforcement agencies and archaeologists in finding missing persons and relics. Dr. Orloff is a graduate of the University of Southern California Medical School and the UCLA Neuropsychiatric Institute. She is the author of Second Sight (Warner,1996).
Praise For…
---
"Orloff tried to stave her intuitions off during medical school until she found herself 'trapped' in a profession that was itself dependent on dispensing drugs to silence the spirit...To listen only to the mind and not the soul is, Orloff believes, a form of insanity"
—San Francisco Chronicle

"An exemplary and eloquently written story that makes it easy for nonbelievers in intuition to believe. You must read this book."
—Psychology Today

"Judith Orloff is a talented writer, and her book moves like a thriller… Orloff's real goal is to awaken your sense that you too are an intuitive --- indeed, that we all are --- and that you can sharpen your gifts. If you've ever had an experience that gives you chills to remember, if you ever find that you 'know' facts about people they would never have told you, this book will be a great relief and a door to more… Forgive me my moment of intuition, but this book feels right."
—Jesse Kornbluth, Huffington Post 

"An intensely personal spriitual odyssey. Dr. Orloff's self-portrait as an intuitive psychiatrist is filled with love and a truth born of an extraordinary gift."
—Norman Lear, Writer, producer

"Fascinating...Dr. Orloff writes with wisdom and humility about her emergence as a physician with extraordinary abilities. Highly recommended."
—Dean Ornish, M.D., Author, Dr. Dean Ornish's Program for Reversing Heart Disease

"Poignant…courageous and refreshing. Must reading for all."
—Edgar Mitchell, Apollo 14 Astronaut, Author, Way of the Explorer

"One of those rare books that has the potential to create shock waves and revolutions within a profession. An inspiring, lofty statement from a very courageous physician."
—Larry Dossey, MD, Author, Healing Words

"We are far more than we have allowed ourselves to be. Judith Orloff is to be commended for helping us understand that simple truth."
—Louise Hay, Author of You Can Heal Your Life

"A book to re-read...a story that gives one pause...Orloff tells her story with conviction and a gentle, literate style that wins the reader to her narrative."
—Napra Review

"Second Sight reads like a thriller. It is a page turner ...inspiring...controversial. This pioneering book shares the struggles and well-won successes of a courageous physician who fights against a skeptical medical system to validate the power of intuition. You will find a new friend in Judith as her writing style is as intimate as if she was talking to you in her living room."
—Joan Borysenko Phd Author, Mending the Mind, Minding the Spirit