Sag Harbor (Paperback)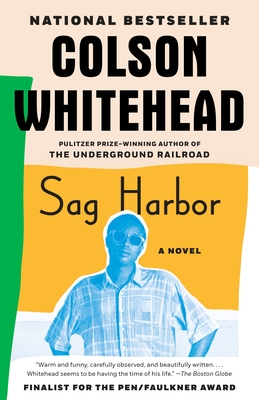 $15.95
Usually Ships in 1-5 Days
May 2009 Indie Next List
---
"Colson Whitehead's Sag Harbor, a coming-of-age novel set in small community of African-American professionals in the Hamptons, is a masterpiece. Is Whitehead the greatest writer of his generation? He bids fair."
— Sarah McNally, McNally Jackson Books, New York, NY
Description
---
From the award-winning author of "John Henry Days" and "The Intuitionist" a tender, hilarious, and supremely original novel about coming-of-age in the 80s.
Benji Cooper is one of the few black students at an elite prep school in Manhattan. But every summer, Benji escapes to the Hamptons, to Sag Harbor, where a small community of African American professionals have built a world of their own.
The summer of 85 won t be without its usual trials and tribulations, of course. There will be complicated new handshakes to fumble through and state-of-the-art profanity to master. Benji will be tested by contests big and small, by his misshapen haircut (which seems to have a will of its own), by the New Coke Tragedy, and by his secret Lite FM addiction. But maybe, just maybe, this summer might be one for the ages.
About the Author
---
Colson Whitehead was born and raised in New York City. His first novel, "The Intuitionist" (1999) was a finalist for the PEN/Hemingway. His next work, "John Henry Days" (2001), was a "New York Times" Editor's Choice, won the Young Lions Award and was a finalist for the National Book Critics Circle and the Pulitzer Prize. His most recent book, "The Colossus of New York," was a N"ew York Times" Notable Book of a Year. Whitehead has also been the recipient of a Whiting Writer's Award and a MacArthur Grant. His writing has appeared in the "The New York Times," "The Village Voice," Salon, and "Newsday," He lives in Brooklyn with his wife Natasha and daughter Madeline.
Praise For…
---
"Warm and funny, carefully observed, and beautifully written. . . . Whitehead seems to be having the time of his life." —The Boston Globe

"Sag Harbor is a kind of black 'Brighton Beach memoirs'. . . . The novel's eight chapters are, in effect, masterful short stories [that] riff on the essential quests of teenage boys: BB guns, nude beaches, beer and, above all, the elusive secret to fitting in." —The Washington Post
 
"Delicious." —The New York Times Book Review

"Whitehead has tapped the most classic summer-novel activity of all: nostalgia. . . . The pleasure is in the way Whitehead recalls it, in loving and lingering detail." —Time

"Surges and sings. . . . Stokes our emotions and intellect at once." —Dallas Morning News
 
"Weaves a spell that is by turns enchanting, mood-shifting, and side-splitting." —Elle
 
"Lyrical and hilarious." —Philadelphia City Paper

"By acknowledging that adolescence's indignities are universal, and that the search for self is endless, Sag Harbor brings this truth home." —Vanity Fair

"Beautifully written." —Details

"Imagine a younger version of Bill Cosby, only more lyrical and far racier, with added literary and sociocultural references at his disposal and a greater familiarity with what the book terms 'the insistent gray muck that was pop culture' as it seeped through the '80s." —Newsday

"Whitehead has a David Foster Wallace-esque knack for punctuating meticulously figurative constructions with deadpan slacker wit." —The Los Angeles Times

"All of Whitehead's previous books were various degrees of funny, and Sag Harbor is funnier than all three combined." —The Village Voice
 
 "[J]ust as Benji is in the process of remaking himself, one gets the feeling after reading Sag Harbor that Whitehead is taking his first artistic steps away from what has come to be expected from 'Colson Whitehead.' And it's safe to say, we're happy, and very lucky, to have both the who he was and the who he'll become out there, telling us like it is."  —The San Francisco Chronicle
 
"[A] wise, affectionate novel." —The Washington Post
 
"Ebullient, supremely confident."  —The San Diego Union-Tribune

"He can write sentences like nobody's business, and the deepest satisfaction in this book full of them is his crafty turn of phrase."  —Bloomberg News

"Effortlessly readable. . . . Masterful at re-creating the organized chaos of the teenage mind." —Cleveland Plain Dealer