When the Rivers Ran Red: An Amazing True Story of Courage and Triumph in America's Wine Country (Paperback)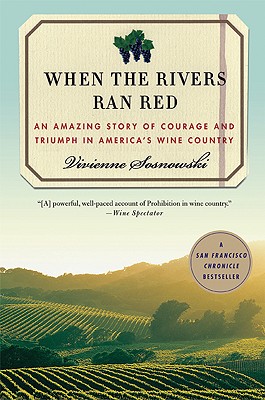 This Book Is Not Sold Online - In Store Special Order Only
Description
---
When Prohibition took effect in 1920, only a few months after one of the greatest California grape harvests of all time, violence and chaos descended on Northern California. Federal agents spilled thousands of gallons of wine in the rivers and creeks, gun battles erupted on dark country roads, and local law enforcement officers sympathetic to their winemaking neighbors found ways to stonewall the intruding authorities. For the state's winemaking families many of them immigrants from Italy surviving Prohibition meant facing a crucial decision give up their idyllic way of life, or break the law to enable their livelihood to survive.
Sosnowski's intimate history provides us with a new view into Prohibition America, away from the flappers and speakeasys of Chicago and New York, and into the lovely hills and valleys of wine country, where families hid vintages and prayed for the days when they could resume the craft that they loved. "When the Rivers Ran Red" tells of the extraordinary adventures of the stalwart efforts of immigrant families the Seghesios, the Foppianos, the Nichelinis and the Cuneos who saved one of America's most beloved traditions.
About the Author
---
Vivienne Sosnowski has been an editorial director of newspapers, including the" Washington, D.C., Examiner" and the" San Francisco Examiner." A gifted photographer whose portraits of wine country pioneers were the genesis of "When the Rivers Ran Red", she divides her time between a home in the vineyard county of Sonoma and another in Vancouver, Canada.
Praise For…
---
"A cool history book for fans of wine and local lore." --San Fransisco Examiner
"…a lively account of the battle of the local industry to survive against aggressive government efforts to shut it down." --Sonoma Index-Tribune
""When the Rivers Ran Red" casts light on a less-understood aspect of that infamous period in American history -- an era whose familiar images of Prohibition usually don't include its effect on American wineries." -- Nick Owchar,
LA Times
"When the Rivers Ran Red" by Vivienne Sosnowski, chronicles the impact of Prohibition in California wine country. Intelligent, engaging, sympathetic and sharp.—The Kansas City Star
"Sosnowski's fascinating account of how Napa and Sonoma winemakers struggled to survive during the national insanity known as Prohibition fills a giant hole in the history of American wine. Wine lovers everywhere should thank her for tracking down survivors, many now in their 90s, who provided rich accounts of what it was like to live through that terrible nightmare. A tale well told, Sosnowski has a fine touch." -- George M. Taber, bestselling author of Judgment of Paris
"Rich, moving and evocative, Sosnowski's exquisite writing brings to life a chapter of American history that has largely been forgotten. Anyone who enjoys California's legendary wines will absolutely adore
When the Rivers Ran Red.
 A book to be savored, word by word. Were this a great bottle of wine, it would deserve 5 stars out of 4." --Don and Petie Kladstrup, bestselling authors of
Wine & War: The French, the Nazis and the Battle for France's Greatest Treasure
and
Champagne: How the World's Most Glamorous Wine Triumphed Over War and Hard Times
 "Sosnowski's
When the Rivers Ran Red
will defeat the misconception that fine California wine represents a recent phenomenon. This fast paced, crisply written account of California winemakers' battle to survive Prohibition breathes new life into this precious American tradition and shows in gripping detail how deep these vines' roots run in the soils of lovely Napa and Sonoma Valleys." --William Echikson, author of 
Noble Rot: A Bordeaux Wine Revolution
 "Intensely moving, fast-paced, horrifying and inspiring in turns,
When the Rivers Ran Red
 is a beautifully written, deeply researched story of liberty and tyranny, the love of life and the sickness of its enemies. I shall remember it every time I visit California wine country." --Hugh Johnson, bestselling author of
The World Atlas of Wine,
The Story of Wine
and the
Pocket Wine Book
series "The tentacles of the Volstead Act were powerful and far-reaching. In telling what happened in California's valleys during the difficult years of Prohibition, Vivienne Sosnowski puts a human face on the misery and desperation
,
but shows the courage and ingenuity that has ultimately led to the triumph of the State's wine growers." --Gerald Asher,
Gourmet
magazine, and author of
The Pleasures of Wine
and
Vineyard Tales
"This tale of a little-known aspect of American history will be enjoyed by Californians, as well as oenophiles and history buffs."--Library Journal
"Sosnowski
records in heavily researched detail the real effects of Prohibition on people who wished only to produce sound wine."--
Booklist
 "A rollicking story... It'll keep you awake on your [beach] towel."--
The Miami Herald
 "Sosnowski is a compelling historian… While the California wine industry is a juggernaut today and Napa and Sonoma are far different places than they were, this book will change the way you look at their wines, and you may find yourself tasting them differently knowing what that land and its people have been through....A cool history book for fans of wine and local lore."--
San Francisco Chronicle
 "Not until this book has anyone really examined the impact of Prohibition on the people of California's Wine Country. It's a story whose arc you know, yet in the telling it is far more powerful and engrossing than you might expect."--Book Editor's pick,
San Francisco Chronicle
 "Ms. Sosnowski's deeply researched story puts a human face on a tragic story."--
Pittsburgh Post-Gazette
 "Wine lovers, history buffs, and those interested in the history of many local grape-growing families are sure to enjoy Sosnowski's compelling, thought-provoking account of winemakers' fight to survive Prohibition. It's a book to relish, perhaps with a glass or two of fine wine."--
Press Democrat 
"Sosnowski offers a gripping account of Federal agents looking to seize wine and the winemakers who hid their vintages in ingenious ways. It's also a fascinating look at the birth of some of the California wine dynasties that exist to this day."--
Wine Enthusiast
"The book is a powerful, well-paced account of Prohibition in wine country.  It takes its title from the millions of gallons of red wine that were emptied into the rivers because of the new law, and follows the social damage, financial ruin and corruptino that came with the wine ban." --
Wine Spectator
"Sosnowski has written a book that is detailed and colorful.  Both historians and wine enthusiasts will appreciate learning about Prohibition from the side of the winemakers of Sonoma and Napa Valley.  The particular approach the author uses gives readers a fascinating close-up look at winemakers shortly before Prohibition started and includes the years Prohibition was in effect." --
Wine Trail Traveler
"Not until this engrossing book has anyone really examined the impact of Prohibition on the people of California's Wine Country." --
San Francisco Chronicle's 50 Notable Bay Area Books of 2009!