PLEASE NOTE
Books must show: IN STOCK at your desired location for same day pick-up in stores. We recommend calling stores that show low stock numbers.
Living Hell (Hardcover)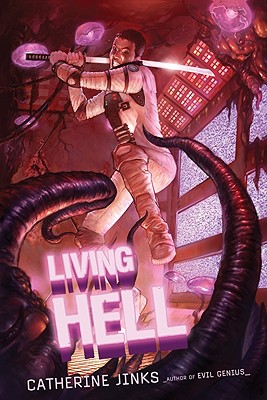 This Book Is Not Sold Online - In Store Special Order Only
Description
---
What happens when a single moment changes everything? For seventeen-year-old Cheney, life on earth exists only in history books. He and more than one thousand other people have known life only aboard the Plexus spacecraft: self-contained, systematic, and serene. But that was before the radiation wave.
Now Plexus has suddenly turned on them, becoming a terrifying and unrecognizable force. As the crew dwindles under attack, Cheney and his friends need to fight back before the ship that's nurtured them for so long becomes responsible for their destruction.
About the Author
---
CatherineJinksgrew up in Papua New Guinea and now resides in New South Wales, Australia. She is a three-time winner of the Children's Book Council of Australia Book of the Year award and has received the Centenary Medal for her contribution to Australian children's literature. Her popular works for young readers include the Evil Genius series, The Reformed Vampire Support Group, and the trilogy that began withHow to Catch a Bogle. Visit her website at www.catherinejinks.com.
Praise For…
---
"Jinks' well-thought-out environs and rational characters help ground this otherwise out-of-control interstellar thriller."--Booklist
"'Life is a force that cannot be tamed,'" observes Cheney, and readers will likely spend a long time—after their heart rates have gone back to normal—reflecting on just how true that is."--Bookpage
"Gleeful "Alien"-esque action adventure...Packed with thrills, this deserves equally over-the-top CGI. In a word—AWESOME."--Kirkus
"Jinks (The Reformed Vampire Support Group) remains adept at action sequences and creating a pervasively tense environment...With plenty of gruesome creatures (and demises) that owe a thing or two to films like Aliens, this is science fiction for horror fans."--Publishers Weekly