PLEASE NOTE
Books must show: IN STOCK at your desired location for same day pick-up in stores. We recommend calling stores that show low stock numbers.
The Healing of America: A Global Quest for Better, Cheaper, and Fairer Health Care (Paperback)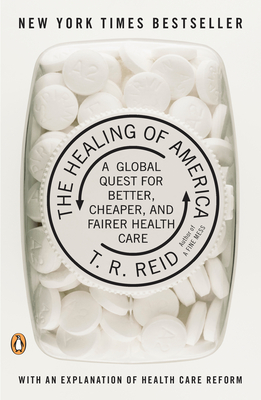 $17.00
Usually Ships in 1-5 Days
Description
---
A "New YorkTimes" Bestseller
With an Explanation of the 2010 HealthReformBill
Bringing to bear his talent for explaining complex issues in a clear, engaging way, "New York Times" bestselling author T. R. Reid visits industrialized democracies around the world--France, Britain, Germany, Japan, and beyond--to provide a revelatory tour of successful, affordable universal health care systems. Now updated with new statistics and a plain-English explanation of the 2010 health care reform bill, "The Healing of America" is required reading for all those hoping to understand the state of health care in our country, and around the world.
About the Author
---
T.R. Reid graduated from Princeton University in 1966 and has since worked as a naval officer, teacher, lawyer, and journalist. Since 1977 he has been a reporter on the National News staff of the "Washington Post".
Praise For…
---
"Important and powerful... a rich tour of health care around the world." --Nicholas Kristof, The New York Times

"You don't necessarily realize it while you're reading, but you're talking Comparative Health Economics 101. With a really fun professor." --Daily Kos

"Not many writers of any ilk... can match T.R. Reid's ability to bring a light, witty touch to really serious topics--like health policy around the globe." --New America Foundation